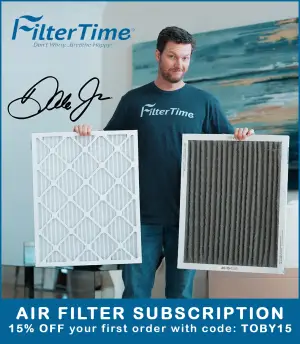 Ryan Ellis and the No. 43 Alpha Prime Racing team will have a new partner on board its Chevrolet Camaro when the NASCAR Xfinity Series reaches Las Vegas Motor Speedway in March. ShineWater will make its maiden voyage as a primary sponsor in the world of NASCAR as they support Ellis in the Alsco Uniforms 300.
The team made the primary sponsorship announcement in a press release on Monday.
ShineWater, according to the release, is a ready-to-drink hydration beverage, which comes equipped with 100% of your daily recommended dose of vitamin D in each bottle.
With more and more people staying indoors these days, the brand states that nearly half of the US population actually suffers from vitamin D deficiency. The partnership with Ellis will bring attention to that issue, while also bringing the ShineWater brand to the NASCAR fanbase.
"ShineWater is a brand built from the heartland with a mission to bring vitamins and nutrients to Americans in an all-natural, good-for-you beverage. For us, a partnership with Ryan Ellis and Alpha Prime Racing just made perfect sense to help us spread the word about the importance of vitamin D," said Ryan Coon, Chief Marketing Officer, of ShineWater.
Ellis states that he procured the partnership after discovering and purchasing ShineWater at his local Food Lion store.
"I'm so excited to announce this partnership with ShineWater. I found ShineWater very recently at a local Food Lion near my house and immediately fell in love with the taste and everything that the brand stands for," said Ellis in the team release. "Like many others during the pandemic, I did a lot of research on the benefits of vitamin D and I have been taking daily supplements to make sure that I get my daily dose of sunshine even on days I am mostly inside. As a new parent, I've been focusing on keeping my immune system strong so I have the energy to chase my daughter around the house and obviously, train for the racing season. It's great to partner with another brand that I truly believe in. I really hope that we can grow this partnership into more races in 2023 and future years."
In addition to Food Lion, ShineWater can be purchased at Meijer, Walmart, Target, CVS, HyVee, QT, 7-11 and more retailers.
Ellis, 33, scored his career-best NASCAR Xfinity Series finish at Las Vegas Motor Speedway last spring with a 13th-place effort in the No. 44 Alpha Prime entry. Ellis would match that career-best finish later in the season at Charlotte Motor Speedway.
On September 15th, Ellis announced that he would be returning to Alpha Prime Racing in select events for the 2023 NASCAR Xfinity Series season, and on December 20th, Alpha Prime and Ellis confirmed that his deal is for at least 24 races in 2023.
In addition to ShineWater, Ellis announced on December 31st that CorvetteParts.net, a longtime sponsorship partner, will return to be the primary sponsor for him in six races in 2023.