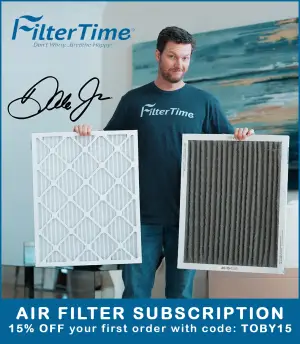 Ryan Ellis will see a big-time increase in the amount of NASCAR Xfinity Series races that he'll be competing in for Alpha Prime Racing in 2023, as the 33-year-old driver has a schedule of 24 races already scheduled, with the potential of more to be added at a later date.
According to an announcement from Alpha Prime on Tuesday, Ellis will drive a brand new third car, with the iconic number 43, for his 24-race stint.
Ellis will kick off his 2023 season in the season-opening event at Daytona International Speedway on February 18th. Ellis will then continue for the entire opening four races, before taking a one-race break after Phoenix Raceway.
Here is Ellis' current 2023 NASCAR Xfinity Series schedule:
Feb 18. Daytona

Feb. 25 Fontana

Mar. 4 Las Vegas

Mar. 11 Phoenix

Mar. 25 COTA

Apr. 1 Richmond

Apr. 15 Martinsville

Apr. 22 Talladega

Apr. 29 Dover

May 13 Darlington

May 27 Charlotte

Jun. 24 Nashville

Jul. 15 New Hampshire

Jul. 22 Pocono

Jul. 29 Road America

Aug. 5 Michigan

Aug. 12 Indy Road Course

Aug. 25 Daytona

Sep. 9 Kansas

Sep. 15 Bristol

Sep. 23 Texas

Oct. 21 Homestead

Oct. 28 Martinsville

Nov. 4 Phoenix
In 2022, Ellis ran a total of 11 races in NASCAR Xfinity Series competition, his highest total since the 2016 season, where he ran 16 events.
In his 11-race chunk with Alpha Prime Racing in 2022, Ellis was able to score his career-best finish in a 13th-place effort at Charlotte Motor Speedway in May.
On September 15th, Alpha Prime announced that Ellis would return to the organization for the 2023 season in an expanded schedule, although at the time, the total amount of races had not been announced.
The driver lineup for the remaining nine races on the schedule will be announced at a later date.