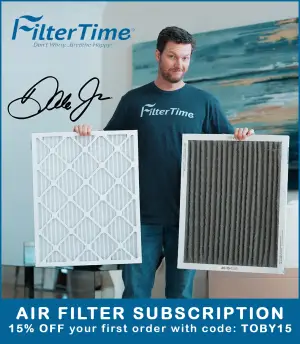 ASHOC Energy, a sponsor of NASCAR's 'Most Popular Driver' Chase Elliott at Hendrick Motorsports, will not return to sponsor the No. 9 Chevrolet Camaro in 2023.
A representative with knowledge of the situation tells TobyChristie.com that "ASHOC has reached the end of its contract and will not return to Hendrick Motorsports."
The company, which signed a two-year agreement with Elliott and HMS in January 2021, served as a primary sponsor of the No. 9 Chevrolet in a total of four NASCAR Cup Series events – two in 2021, and two in 2022 – earning a best finish of seventh at Atlanta in July 2021.
In addition to the partnership forged between ASHOC and Elliott at NASCAR's top level, the energy drink company also sponsored a one-off entry in the NASCAR Craftsman Truck Series at Texas Motor Speedway in 2021, where he finished runner-up.
Outside of NASCAR, ASHOC Energy was also a supporter of Elliott and his extracurricular racing activities, including the 2022 Chili Bowl Nationals in Tulsa, Oklahoma, where the Dawsonville, Georgia native took one of the wildest rides of his career.
Elliott will begin his ninth season of full-time competition in the NASCAR Cup Series when the series starts its season with the LA Memorial Coliseum, coming off of a season with the series-leading and career-best-tying five victories.
As of January 3, Hendrick Motorsports has yet to announce a replacement for ASHOC, which leaves a two-race vacancy in the sponsorship schedule of the sport's most popular and influential figure. NAPA Auto Parts, UniFirst, Hooters, and Llumar Films are all contracted to return to the No. 9 in 2023.