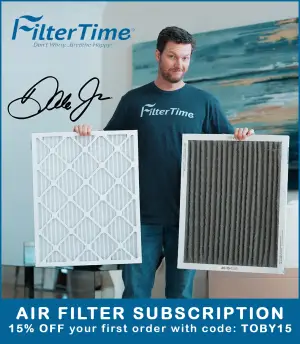 Carson Hocevar will officially return to Niece Motorsports to contest the full NASCAR Craftsman Truck Series schedule in 2023. The team made the announcement on Thursday morning in the form of a press release.
This will mark the 19-year-old Hocevar's third full-time NASCAR Truck Series season.
Sponsorship for the effort in the No. 42 entry will come from the Worldwide Express Racing Program, which features Worldwide Express, Unishippers and GlobalTranz.
The Michigan native, who has finished 10th in the championship standings in each of the past two seasons, feels he's ready for a championship push in 2023.
"Niece Motorsports feels like home, so I'm excited to come back and compete for a Championship in 2023," said Hocevar in the release. "I'm so thankful to Worldwide Express and their WWEX Racing program for stepping up to sponsor us for the whole season. I've enjoyed the partnership and really look forward to growing it next season. Our goal remains to bring Niece Motorsports, Al Niece and WWEX Racing wins and a championship in 2023.
"I've dreamed of racing in NASCAR since I was a little kid. To be preparing for my third full-time season in the Truck Series is surreal. Thanks to Al Niece and everyone at Niece Motorsports, Chevrolet, the Worldwide Express family of brands, Premier Security Solutions, GM Parts Now, and Scott's Coins, Jewelry & Sports for getting me here. Their support means the world."
Niece Motorsports is happy to have their marquee driver, who has scored 10 top-five finishes and 20 top-10 finishes in 54 career starts, re-signed for the upcoming season.
"We are thrilled to have Carson return to Niece Motorsports next season and excited to expand our partnership with Worldwide Express," said Niece Motorsports General Manager Cody Efaw.
"Carson has proven time and time again what a tremendous talent he is, and we are glad that he'll be back behind the wheel of our Chevrolets again next year. We couldn't do this without great partners, so we are incredibly thankful to have full season support from Worldwide Express. We look forward to making them proud on and off the track."
Hocevar is still searching for his elusive first-career victory in NASCAR Craftsman Truck Series competition, but it appears to be a question of when the win will come, not if.
The young driver was in a position to score that first victory on numerous occasions in 2022, and he even showed true grit down the stretch as he never missed a race despite suffering a fractured ankle in a nasty crash at Worldwide Technology Raceway at Gateway.
In fact, a week after suffering the injury, Hocevar impressively scored the pole for the race at Sonoma Raceway.