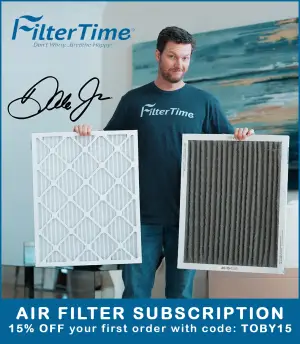 On Wednesday, NASCAR announced that Elton Sawyer will serve as the sanctioning body's Senior Vice President of Competition, replacing Scott Miller, who has held the high-level role within NASCAR's Competition staff for multiple years.
"Elton Sawyer has shown incredible versatility throughout his four-plus decades in motorsports," said Steve O'Donnell, NASCAR Chief Operating Officer. "Following his lengthy driving career, Elton held key leadership positions for several race teams and here at NASCAR for the last eight seasons. He will excel in this role, and we look forward to watching him continue to grow the Competition team during this crucial era in our sport's history."
Sawyer initially joined NASCAR in February 2015 as managing director of the NASCAR Craftsman Truck Series. Most recently, he held the role of NASCAR Vice President, Technical Inspection and Officiating, a role he first assumed in 2016. In that capacity, Sawyer oversaw race event management, transportation, and NASCAR official training and development.
In his new role, Sawyer will oversee all aspects of on-track competition, including inspection, rule development, and officiating, focusing specifically on the NASCAR Cup Series, NASCAR Xfinity Series, and NASCAR Craftsman Truck Series.
"I have been a proud member of this extraordinary team for eight years, and I look forward to continuing to help grow the outstanding competition we've seen over the last several seasons," Sawyer said. "NASCAR racing has been my life for decades. I have a deep passion for the sport, and am honored to be in a position to help shepherd the Competition team during these exciting times."
Sawyer began his racing career by competing at Langley Speedway in Virginia. He debuted on the NASCAR National Series circuit in 1983, racing in what is now known as the NASCAR Xfinity Series. Prior to joining NASCAR, Sawyer served as Director of Operations for IMSA's Action Express Racing. He has also previously held competition roles at Red Bull Racing and Evernham Motorsports.
Scott Miller, who has led NASCAR's at-track competition team throughout some of the most competitive years in the sport's history, will step down from his post, in favor of taking on the newly-formed role of Competition Strategist within the NASCAR Competition team.
"After more than 40 years around race cars week after week, it's time to step back and look at the next chapter of my life in motorsports," Miller said. "I'm thankful to the France Family and everyone at NASCAR for the opportunity they gave me seven years ago, and I appreciate the chance to stay in the fold to help however and wherever I can. We have a strong team at NASCAR, and I'm excited to remain a part of it."
In his new role, Miller – who joined NASCAR in December 2015 – will focus on several "big picture" special projects, such as the Busch Light Clash at the LA Memorial Coliseum, the NASCAR All-Star Race at North Wilkesboro Speedway, and the Chicago Street Course race,  as well as long-lead planning around NASCAR Competition strategy.
"We are thrilled that Scott Miller has chosen to remain a key part of the NASCAR Competition team. When he joined NASCAR in 2016, Scott lent immediate credibility to the position. A trusted voice in the garage, Scott used his decades of experience to lead our Competition team to new heights during a time that saw a new race format, a new playoff format, and a new race car. The mark he leaves on the organization is significant.
Additionally, NASCAR has announced a myriad of promotions within its competition staff, promoting several individuals to key positions:
John Probst has been promoted to NASCAR Chief Racing Development Officer
Dr. Eric Jacuzzi has been promoted to NASCAR Vice President, Vehicle Performance
Dr. John Patalak has been promoted to NASCAR Vice President, Safety Engineering
Brandon Thomas has been promoted to NASCAR Vice President, Vehicle Design
"John Probst's leadership and tireless devotion in the development of the Next Gen car over the last three years has been extraordinary," continued O'Donnell. "This project was among the most challenging and important endeavors in NASCAR history, and leaders like Probst, Dr. Eric Jacuzzi, Dr. John Patalak, Brandon Thomas and many others worked incredibly hard to not only put this car on the race track, but to make it a success for our industry and our fans."
Probst most recently held the title of Senior Vice President of Racing Innovation, overseeing the development and evolution of the Next Gen car. Probst joined NASCAR in 2016, providing senior oversight of an engineering group that develops and incorporates new technology into all aspects of NASCAR competition.
Prior to NASCAR, Probst spent 10 years as the Technical Director of Chip Ganassi Racing (2011-16) and Red Bull Racing (2006-11), after starting his career as an engineer for Ford Motor Company in 1994.
Jacuzzi, who manages aerodynamic engineering for NASCAR, joined the sanctioning body after working as a computational aerodynamicist for Corvid Technologies and was assigned to Richard Childress Racing. Since joining NASCAR in 2014, Jacuzzi has led the team tasked to design the aerodynamic elements of the race vehicles for all three national series – including the Next-Gen car – as well as the Garage 56 car scheduled to run in the 2023 24 Hours of Le Mans.
Patalak, who has worked at the NASCAR R&D Center since 2005, oversees NASCAR's safety team, researching, developing, and approving driver and vehicle safety systems. In this role, Patalak also investigates all crashes and driver protection issues. Prior to NASCAR he worked for an engineering consulting firm specializing in vehicle crashworthiness and occupant protection.
Thomas joined NASCAR in 2019 following time as a crew chief and engineer with Richard Childress Racing, Joe Gibbs Racing, Petty Enterprises, Red Bull Racing, and Hall of Fame Racing. Brought to NASCAR to help shepherd the Next Gen project, Thomas led the day-to-day management of the Next Gen car since the beginning of the development cycle in 2019.