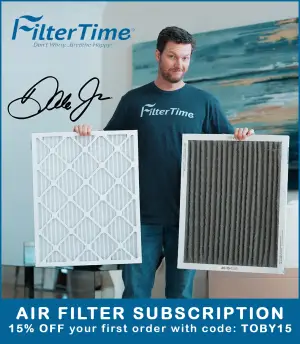 If you've been following the NASCAR Xfinity Series career of Ryan Vargas, you've likely noticed that the grind never really stops for the 21-year-old racer.
Working alongside JD Motorsports since 2019, the La Mirada, California-native has made 63 starts in the NASCAR Xfinity Series, while simultaneously working to find the funding necessary to continue competing in NASCAR's second-tier division.
Throughout the journey, Vargas has quickly become one of NASCAR's most followed individuals, amassing nearly 600,000 followers between Facebook, Twitter, Instagram, and TikTok – where Vargas has eclipsed 500k followers and 7 million likes.
Now, in addition to Vargas' small army of dedicated fans, there will be an additional 852,250 individuals supporting the JD Motorsports driver as he returns to Talladega Superspeedway on October 1.
Those 850-plus thousand fans are part of the r/NASCAR Reddit Community, which will serve as the primary sponsor of Vargas' No. 6 Chevrolet Camaro at Talladega, the fourth and final superspeedway event of the season.
Through Reddit's Community Funds program, which empowers passionate community ideas, r/NASCAR has created a unique, Reddit-inspired paint scheme that will feature between 1,300 and 1,400 usernames from members of the community, as Vargas travels around Talladega at 200mph.
"I'm beyond excited to represent the community of r/NASCAR next weekend at Talladega. Reddit has proven to be a fantastic outlet for NASCAR fans to engage in conversations with each other and even have opportunities to interact with their favorite driver," says Vargas. I'm thrilled to take this beautiful, bright orange race car to the high banks of Talladega and hopefully carry the momentum we've had at Superspeedways with our recent Top-10 (6th) at Daytona."
Scheduled to run full-time in the NASCAR Xfinity Series this season, Vargas has competed in 22 of the series' 26 regular-season events, primarily with JD Motorsports in the organization's No. 6 entry.
So far this year, Vargas has put together a myriad of solid results, securing six finishes inside the top-20, topped off with a career-best sixth-place finish at Daytona International Speedway in August.
This season, traditional superspeedway races have been a bright spot for Vargas and JD, with the 21-year-old being one of four drivers to score a top-20 result in each of the three contests at Daytona and Talladega.
Additionally, Vargas and the No. 6 team have qualified inside the top-10 in both NASCAR Xfinity Series events in which time trials were held, boasting an eighth-place starting spot at Daytona in February, before improving to seventh at Talladega in April.
In the process, Vargas secured JD Motorsports' best starting spot in a NASCAR Xfinity Series event since 2012, while only coming one spot short of tying the team's best-ever starting spot, a mark he'll try to achieve when the series returns to Talladega.
"I'm thankful for the r/NASCAR community's support and am honored to carry the Reddit colors next weekend," Vargas continued. "The support of more than 850,000 r/NASCAR community members will be riding with us at Talladega and I hope to make each and every one of them proud."
The 2022 NASCAR Xfinity Series Sparks 300 at Talladega Superspeedway will take place on Saturday, October 1, with coverage of the event being displayed live on USA Network.