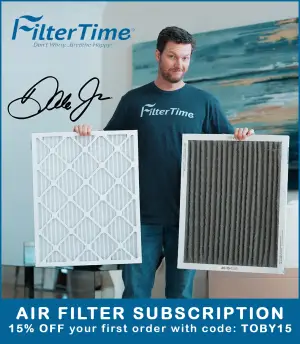 Eight days ago, it looked like Kevin Harvick was poised to finish outside the top-15 in NASCAR Cup Series point standings for only the third time in his career. Well, now he's one of seven multi-time winners in 2022.
The 46-year-old, just one week removed from snapping a 65-race winless streak at Michigan International Speedway, wasn't necessarily the quickest car throughout Sunday's race at Richmond, but adjusted on his Stewart-Haas Racing Ford Mustang to be in contention for the victory.
Harvick's second consecutive triumph wasn't uncontested in the race's closing stages though, as both Chris Buescher and Christopher Bell were able to somewhat mount a charge on the Stewart-Haas Racing driver over the course of the race's final 50 laps.
Buescher had clawed his way into third when the race's final pit cycle began, choosing to get his fresh tires before the top-two on the track, which allowed him to jump into the runner-up spot, beginning his pursuit of Kevin Harvick.
With less than 40 to go, Buescher got alongside of Harvick for the lead, but was impeded by Ricky Stenhouse Jr. on the track, costing the RFK Racing entry time on the track, as well as a chance to battle for the victory.
After a successful defense against Buescher, Harvick looked to be home-free, that was until Christopher Bell – who put his fresh tires on 11 laps later than Harvick – began taking massive chunks out of the lead.
It didn't necessarily take a lot of work from Harvick, but the 20-year veteran of the NASCAR Cup Series admitted that he was forced into multiple mistakes late in the event, in regards to his shifting points on the track.
"Well, I knew he was coming, but I forgot to shift down the front straightaway the last time," Harvick told NBC post-race. "I was not paying attention and he got closer than he should have. I made a mistake there a couple of laps doing the same thing. I wasn't shifting on the back and I was shifting in the front. There was a lot going on and made a couple of mistakes, let him get too close."
With just under 50 laps to go, Harvick held an advantage of 10-plus seconds over Bell. However, the Bakersfield, California-native completed the 400th lap of the event only 0.441 seconds ahead of the Joe Gibbs Racing driver.
Chris Buescher was able to hold onto his No. 17 Ford Mustang and score a third-place result in Sunday's Federated Auto Parts 400, marking RFK Racing's sixth top-10 result in the last nine NASCAR Cup Series events.
Denny Hamlin, who was poised to be the leading driver on the alternate strategy that netted Christopher Bell a second-place finish, had problems on his pit stop inside the final 50 laps, forcing him to settle for fourth-place.
Chase Elliott looked to return to form in Sunday's race from Richmond Raceway, completing the event's top-five finishers.
Joey Logano, Martin Truex Jr., Aric Almirola, Kyle Busch, and Ryan Blaney rounded out the top-10. Polesitter Kyle Larson struggled immensely in the final portion of the event, finishing 14th.
Leaving Richmond Raceway, with only two races left in the 2022 NASCAR Cup Series regular season, there is only one position remaining in the Playoffs, which could be occupied by a new winner at either Watkins Glen International or Daytona International Speedway.
At this time, Ryan Blaney holds a 28-point advantage over Martin Truex Jr. for the final position in the Playoffs.
Race Results: 2022 NASCAR Cup Series Federated Auto Parts 400