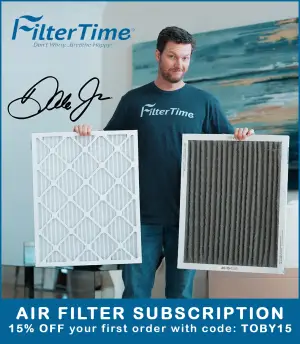 Despite being one of the most consistent drivers on the circuit, things weren't looking good for Kevin Harvick when it came to the NASCAR Cup Series Playoffs, having not visited victory lane this season.
Entering Michigan, Harvick was staring down a hefty 96-point deficit to the projected final spot in the 2022 edition of the series' post-season, which likely required a victory for the Stewart-Haas Racing driver, something he hadn't secured in nearly two years.
Much like Saturday's NASCAR Xfinity Series event, it was a gutsy two-tire strategy call under green that left Harvick in position to capitalize on the seventh and final caution of the event, which occurred after an incident involving Ross Chastain and Christopher Bell.
Harvick and crew chief Rodney Childers, still shown on the lead lap at the time of the caution, elected to stay on the track to pick up track position, a move which ultimately put the 46-year-old in position to capture the win.
Behind Harvick, on slightly newer tires, were Joey Logano, Bubba Wallace, and Ryan Blaney. Wallace, who started the race from the pole, showed speed in the penultimate run of the event, which set him into a strong spot for the race's final 35-lap stint.
On the restart, Wallace struggled to get himself into line, falling to third place behind Joey Logano, where he then struggled for upwards of 20 laps to get around the Team Penske driver.
The scrap for the runner-up spot allowed Harvick to pull away to a monstrous lead of more than 4.5 seconds, which Wallace would eventually close down to just under three seconds before he ran out of laps.
Harvick's triumph in Sunday's rain-delayed FireKeepers Casino 400 at Michigan International Speedway was the 59th of his NASCAR Cup Series career, snapping a winless streak of 65 races.
Bubba Wallace was able to make a late rally, closing down nearly two seconds over the course of the last eight laps, but had to settle for a second-place result, this third top-five result in the last four NASCAR Cup Series events.
Denny Hamlin – who looked to be in a prime spot to capture his third victory of the season – had to settle for a third-place finish, after being slammed with a pair of pit road penalties on the race's final stop.
Joey Logano and Ryan Blaney completed the race's top-five finishers. Martin Truex Jr, Kyle Larson, Erik Jones, and Alex Bowman recorded finishes of sixth through ninth after 400 miles at Michigan.
In another incredible effort, Ty Gibbs rounded out the top-10, serving in an interim role for 23XI Racing, while Kurt Busch is sidelined from concussion-like symptoms stemming from a qualifying crash at Pocono.
Gibbs' three NASCAR Cup Series voyages have resulted in three finishes inside the top-20, becoming only the fourth driver since 1985 to earn three top-20s in his first three starts at NASCAR's top level.
In 18th, Austin Hill earned a successful top-20 result for Richard Childress Racing, in a performance that many would consider the NASCAR Xfinity Series winner punching above his weight.
Next for the NASCAR Cup Series is the 24th race of the 2022 season at Richmond Raceway, as the series' 10-race post-season looms closer and closer. Elliott continues to hold a massive points lead over Ryan Blaney, while the playoff bubble has tightened between Blaney and Martin Truex.