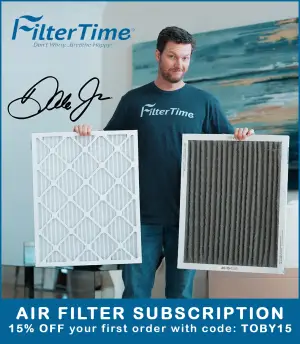 Bayley Currey, who is in the midst of his first full-time NASCAR Xfinity Series season, had a massive sponsorship announcement on Tuesday's episode of SiriusXM NASCAR Radio's Tradin' Paint with Chocolate Myers and Alan Cavana. Alka-Seltzer, which is an iconic sponsor of NASCAR season's past, will provide sponsorship of the No. 4 JD Motorsports machine for five races this season, starting with Pocono Raceway.
"Super happy to announce that we will be having Alka-Seltzer on board for five races this season, starting this weekend at Pocono," Currey said in the interview. "Super pumped to have them on board. It's a huge company, really prestigious company. Excited to have them backing us and supporting us going forward."
For Currey, the 25-year old journeyman driver, it's a big deal to land a sponsor as large as Alka-Seltzer and the process of getting everything approved in time for Pocono was also quite the undertaking.
"I tell you, it's been a long process, getting everything approved," Currey admitted. "Paint scheme approved, firesuits approved. We've had a lot of help over at Johnny Davis Motorsports with AE Engine, they're a marketing company. They've been helping us out, been working real close with those guys. They've even been helping me out with my podcast and stuff. Huge thank you to everyone over there, huge thank you to Tony, who is the V.P. of marketing over here."
The native of Drftwood, Texas scored his first top-10 finish of the season this past weekend at New Hampshire Motor Speedway. Currey says the positive momentum couldn't be coming at a better time for he and his team.
"Especially coming off of a good run last week, getting that top-10. We've had some bad luck, I feel like we should have had a few of those. But to finally break through and get one is great. And to lead into our first week with Alka-Seltzer, it's great," Currey stated.
Currey sits 22nd in the NASCAR Xfinity Series championship standings and he's an underdog racer, who has really impressed driving in underdog equipment throughout his career. Currey's personality and great performances have begun opening the eyes of big corporate sponsors, which has now culminated in a sponsorship from Alka-Seltzer.