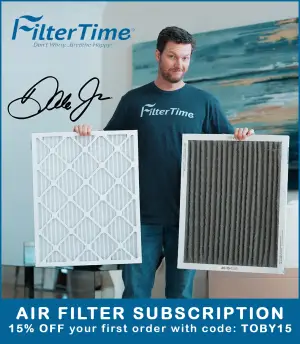 With the 2021 NASCAR Cup Series Playoffs ready to begin this weekend at Darlington Raceway, more pieces of information surrounding the 2022 season is being revealed, through team announcements or reports, further narrowing the already competitive silly season landscape for drivers on the hunt for a ride in NASCAR's top-three series next season. Across NASCAR's top-three series many drivers have already been in talks with organizations to secure plans for next season, while deals going on behind the scenes keep producing additional free agents into an over-saturated market.
As always, you can check out TobyChristie.com's 2022 NASCAR Driver / Team Charts for all three series, to see what your favorite driver / team / sponsor / crew chief is going to be doing in 2022, if they've got plans announced yet.
2022 NASCAR Driver / Team Chart: NASCAR Camping World Truck Series
---
Can You Take Me Higher? Sheldon Creed Looking to Take Next Step… Could it be With RCR?
While it seems fair to assume that Richard Childress Racing's (RCR) NASCAR Cup Series program is set to remain the same next season, with Austin Dillon and Tyler Reddick, there is the possibility that the organization's NASCAR Xfinity Series program could undergo some changes, or even an addition for 2022.
Since 2018, Richard Childress Racing has only fielded one full-time entry in the NASCAR Xfinity Series, moving from a second part-time car in 2019, to a single car with a rotating lineup in 2020, before ultimately decided to have Myatt Snider pilot the organization's sole full-time entry in 2021. Could this trend come to an end in 2022? It's possible.
It has been implied by many within the industry, that 2020 NASCAR Camping World Truck Series champion Sheldon Creed could potentially be a candidate to pilot a Richard Childress Racing entry in the NASCAR Xfinity Series next season, although it's unclear if he would be in a second-entry or replacing Snider in the team's sole full-time entry. RCR would be a logical landing spot, as JR Motorsports' entires are quickly filling up, with the announcements of Noah Gragson and Josh Berry returning to the organization in 2022.
While Snider was able to capture a victory at Homestead early in the season, the remainder of the season has been lackluster for the 26-year-old, who has only been able to capture one top-five and seven top-10s in 23 starts this season, currently sitting 12th-place in points as the series' approaches the post-season.
However, there is also the possibility that Ty Dillon, grandson of Richard Childress, could find himself placed in a ride at Richard Childress Racing, but as both Dillon and Childress have stated, it will take funding for the youngest Dillon brother to find himself with the organization. Yet, in a season where Dillon was signed to drive for Toyota, the Lewisville, North Carolina-native has run two races in a Chevrolet for Our Motorsports, with Kaulig Racing crew chief Matt Swiderski calling the shots.
This begs the question: Could this be an early indicator of Dillon migrating to a Chevrolet-backed entry in 2022? Ideally, Dillon would slot in at Richard Childress Racing, but Kaulig Racing does have openings in both the NASCAR Cup Series and NASCAR Xfinity Series next season, could that be a potential landing spot for the former Cup Series full-timer?
---
'Ware' Do Things Fall for Rick Ware Racing in 2022?
As the 2021 NASCAR Cup Series season begins to wind down, one of the biggest questions that remain in silly season for the 2022 NASCAR Cup Series season is Rick Ware Racing, and what the organization's plans will be for next season.
Currently fielding four chartered entries in the NASCAR Cup Series, RWR has already made it known that the organization is planning to have "two really strong cars" next season, which leaves a myriad of questions on the table for the organization, including who will pilot the entries and what will be done with the two charters not being used by the team in 2022.
It would be quite surprising if Cody Ware – son of team owner Rick Ware — didn't return to the organization's NASCAR Cup Series program in some form next season, after running his first full season this season. Ware's interest in the NTT IndyCar Series could lend itself to the 25-year-old splitting his time between the two divisions.
Furthermore, one source tells TobyChristie.com that there may be some interest in a collaboration between Rick Ware Racing and a prominent NASCAR Cup Series veteran who has many years of race-winning experience, but the source didn't disclose the progression of the talks between the two parties.
Heading into 2022, the charter market has been extremely competitive, as multiple team owners are looking for the opportunity to obtain a charter for next season. GMS Racing and 23XI Racing have both announced plans to run in the NASCAR Cup Series next season, but have yet to publicly confirm that they've obtained a charter for said entries.
While that option is on the table, RWR could also exercise an option to lease one – or two — of their four charters to other organizations on a one-year term, in hopes that the organization will be able to expand and use them in 2023, or that the sale value of the charters will dramatically increase over the next year, allowing for a higher pricepoint on their sale.
---
Next Gen = New Gen?
NASCAR's Next Gen car – set to debut at the beginning of the 2022 NASCAR Cup Series season — marks a massive transition period for the sanctioning body's top division, with the series being pointed in the direction that will be further seen in it's future. With the long spoken about benefits that are supposed to come from the new car, new teams are looking to break down the barrier of entry into the series, but are also making more bold hiring decisions when it comes to drivers and team personnel.
After purchasing the remaining assets of Chip Ganassi Racing at the end of the year, Trackhouse Racing elected Ross Chastain to be the team's second driver, rather than a proven veteran like Kurt Busch, an option that seemed available to the organization for 2022. Matching that same energy, Team Penske and Wood Brothers Racing elected to move up two drivers from the NASCAR Xfinity Series, in the form of Austin Cindric and Harrison Burton. That's not all though, as Kaulig Racing full-time NASCAR Cup Series program – new for 2022 — will see Justin Haley running full-time at NASCAR's top-level for the first-time.
While experience is always a good thing to have at NASCAR's top-level, with the longer races, more green flag pit stops and higher level of competition, is it necessary for an organization to have? Conventionally, the answer would be yes, but in the terms of a classic metaphor "you don't know what you don't know". If a driver has the talent to run in the Cup Series, but lacks experience, would a brand-new car and the supposed "reset" that follows, be enough reasoning to throw a driver into the deep end?
Newman (725 at the end of '21), McDowell (393), DiBenedetto (248), Preece (113), Houff (89) and Alfredo (36) are all drivers that are thought to be free agents for next season, with none of these six drivers really having a concrete spot where they could land. With Front Row Motorsports' future as a multi-car team uncertain, that could leave McDowell and Alfredo on the outside looking in, with very few rides remaining in the landscape for next season.
The realized difference in team's decision-making processes coupled with a general lack of available seats for next season, may prevent the majority of the listed six drivers from competing at NASCAR's top-level in 2022, which could potentially lead to hard decisions about having to drop down to the NASCAR Xfinity Series or NASCAR Camping World Truck Series to try and re-establish themselves as cup-worthy drivers. In the cases of Newman (43) and McDowell (36), being unable to secure a ride for next season could make a push for retirement, as both drivers have already had long careers in the sport.
---
Mapping Out The 2022 Toyota Racing Development Puzzle
In the past, it's been well documented how the Toyota Racing Development (TRD) driver development program works – or doesn't work, depending on who you ask — with the program featuring a large volume of drivers across NASCAR's top-three series, the three divisions of the ARCA Menards Series, and multiple divisions outside those series' scope. At the end of each season, it's like putting a puzzle together, trying to figure out how each of the drivers will fit into the program's plan for next season, if they even fit into the plan.
Ty Gibbs – as many assumed would be the case — is expected to run full-time in the NASCAR Xfinity Series for Joe Gibbs Racing in 2022, with Sammy Smith set to take over the JGR ARCA Menards Series full-time, but would have to miss out on a couple of races, as he won't turn 18 until June. Gibbs' championship rival, Corey Heim, as well as his Venturini Motorsports teammate Drew Dollar, are also expected to return to the NASCAR Camping World Truck Series at least part-time in 2022, after both have run partial schedules for Kyle Busch Motorsports this season.
It's likely the official determination of Kyle Busch Motorsports' lineup will depend on Chandler Smith and John Hunter Nemechek, as they hold the organization's two full-time seats. While Nemechek could find himself full-time in the Xfinity Series next season, it's possible he decides to stay put and collect wins in the NASCAR Truck Series again in 2022. As for Smith, there are no clear alternatives for him at this time, especially without a significant amount of sponsorship behind him.
Joe Gibbs Racing's Xfinity Series lineup is still in limbo for 2022, after it was announced that Harrison Burton will drive for Wood Brothers Racing in the NASCAR Cup Series next season, leaving an opening that could easily be filled by Gibbs. As for Hemric and Jones, their statuses will likely be dependent on funding, as well as the number of entries the organization wants to field.
McAnally-Hilgemann Racing currently fields a full-time entry in the NASCAR Truck Series for Derek Kraus, who according to sources, has had some silent interest from other manufacturers and team owners in the past, interest that has seemed to settle after returning to Bill McAnally Racing in 2021. During a broadcast of the BMR Drivers Academy, it was stated that BMR / MHR was looking to field a second entry full-time in 2022, an entry that could land in the lap of Cole Moore, who has dominated the series thus far and currently runs in the ARCA Menards Series West.
Hattori Racing Enterprises has flirted with an effort in the Xfinity Series in years past, fielding a part-time entry in partnership with MBM Motorsports, and getting solid results when placing Austin Hill in the entry. While this could be a pathway for the organization next season, it's unclear if the team is looking to expand their operations to include two series, or if the team would make the move to shutter their NCWTS program in favor of a program in the Xfinity Series. More than likely, any major decisions or overhauls by this team would be dictated by funding.
When it comes to the 2022 NASCAR Camping World Truck Series plans for ThorSport Racing, don't expect any sort of announcement before the calendar year ends, as the organization usually waits to announce their roster until the last minute. Both Christian Eckes and Ty Majeski are part-time drivers for the organization this year, and are looking to return to full-time competition in 2022, but will ThorSport make a change. Could the crew chief swap at Gateway between Majeski and Johnny Sauter be a pre-cursor for what is to come in 2022?
---
'Class of 2022'; Breaking Down Potential ROTY Contenders for NASCAR's Top-Three Series
It's only the beginning of September, but the projected battles and potential contenders for Rookie of The Year honors in the NASCAR Cup Series, NASCAR Xfinity Series and NASCAR Camping World Truck Series are already shaping up to be some of the most highly-contested rookie battles in years, with multiple drivers poised to compete for the designation in each of the top-three series.
NOTE – Eligibility for Rookie of The Year honors is determined by NASCAR on a case-by-case basis. There is no threshold or maximum number of starts provided as a baseline for rookie eligibility.
In the NASCAR Cup Series, both Harrison Burton and Austin Cindric have been confirmed to be part of the Rookie of the Year battle next season, with the reigning NASCAR Xfinity Series Champion piloting the No. 2 for Team Penske, while Burton exits Joe Gibbs Racing's Xfinity Series program after two seasons to pilot the No. 21 for The Wood Brothers. While Justin Haley has been announced as the full-time driver of Kaulig Racing's entry, he may not be eligible for ROTY honors due to his high-volume of starts with Spire Motorsports this season.
With only a couple of competitive full-time rides left, it appears that Burton and Cindric will go uncontested for the designation of Rookie of The Year, barring a rookie-central lineup for GMS Racing through Zane Smith or another driver in Chevrolet's Xfinity or Truck program.
In the NASCAR Xfinity Series, the only driver with plans announced that could be eligible for Rookie of the Year is Jesse Iwuji, who is planning on running full-time in a self-owned entry under the banner 'Jesse Iwuji Motorsports'. With Sam Mayer, Ty Gibbs and Josh Berry all running for the designation this season, they'll be unable to capture the award in their first full-seasons in 2022. Other potential rookie candidates include Jordan Anderson, Sheldon Creed and Kyle Sieg.
Typically in the NASCAR Camping World Truck Series, the Rookie of the Year battle is highly-contested, as drivers looking to make a name for themselves in NASCAR's top-three series usually enter at the bottom of the totem pole, which works out to be the NASCAR Truck Series. While Jack Wood is one of the first confirmed full-timers for 2022, it's unclear if NASCAR will permit him to run for Rookie of The Year, after competing a numerous events for GMS Racing this season.
Among other potential candidates include Corey Heim and Drew Dollar, who have been connected to a potential full-time effort with Kyle Busch Motorsports next season. If McAnally-Hilgemann Racing is to run a second entry next season, it's likely that their driver will also be a rookie contender, which may result in ARCA West competitor Cole Moore finding his way onto the list. Jett Noland, a part-time competitor for Niece Motorsports, could take the same path as his teammate Carson Hocevar and  move to full-time competition with Niece after turning 18. Lawless Alan is planning on being full-time, according to a note in a press release from Reaume Brothers Racing.
NASCAR Cup Series:
Confirmed ROTY: Austin Cindric, Harrison Burton
Potential ROTY:
Status Unknown: Justin Haley
NASCAR Xfinity Series:
Confirmed ROTY: None, yet.
Potential ROTY: Sheldon Creed, Jordan Anderson, Kyle Sieg
Status Unknown: Jesse Iwuji
NASCAR Truck Series:
Confirmed ROTY: None, yet.
Potential ROTY: Corey Heim, Drew Dollar, Lawless Alan, Jett Noland, Cole Moore
Status Unknown: Jack Wood