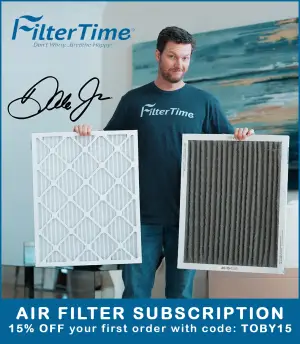 On Wednesday Afternoon, Our Motorsports confirmed reports that Daniel Johnson – who served as crew chief for Martins Motorsports in 15 events in 2020 — will be calling the shots on the team's second entry for the 2021 season.
Just two days prior to the announcement by the organization, Chris Our – owner of Our Motorsports — joined SiruisXM NASCAR Radio to discuss next season's plans for the organization, who announced last week that they would be expanding into a two-car operation for the 2021 NASCAR Xfinity Series season.
Our Motorsports expanding operation to two cars in 2021, Reddick driving at Daytona
Alongside the team's flagship No. 02 Chevrolet Camaro – which will be driven full-time by 2018 NASCAR Camping World Truck Series Champion Brett Moffitt — the organization will be fielding a second full-time entry, which Our says will carry the No. 03 next season.
As previously announced, Tyler Reddick will pilot the No. 03 Chevrolet Camaro in the NASCAR Racing Experience 300 at Daytona International Speedway, in which, according to Our, the No. 03 team will be utilizing ECR Engines.
Additionally, it was mentioned that Patrick Emerling – who piloted the team's No. 02 at Bristol Motor Speedway last June — would be running the team's second entry in multiple races throughout the 2021 NASCAR Xfinity Series season.
Some rumors suggest that both Andy Lally and Santino Ferrucci could have a role in the team's second entry in 2021, but no official announcements have been made at this time.
TobyChristie.com has since reached out to Andy Lally about the possibility of him returning to Our Motorsports for a partial schedule in 2021, but have yet to receive a response.