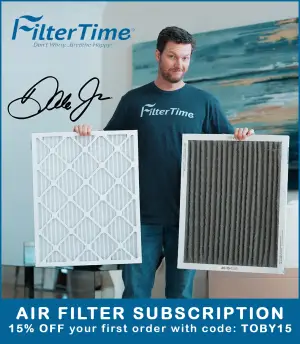 According to a report from Racer.com's Kelly Crandall and Marshall Pruett, 22-year old IndyCar driver Santino Ferrucci is potentially looking at running some NASCAR races during the 2021 season.
While the report states that Ferrucci doesn't have any conversations going on right now, he does have representatives putting out feelers for him. According to the report, the young driver would be open to running in the NASCAR Cup Series or Xfinity Series at the Bristol Motor Speedway dirt event or at the Charlotte Roval.
It would be intriguing to see how Ferrucci would do in a move to stock cars. Obviously, he'll stay full-time in IndyCar in 2021, but if he comes out and performs well, it could open up future opportunities in a full-bodied stock car.
Of course, IndyCar and Formula 1 drivers have had mixed results in swapping over to NASCAR in the past.
Tony Stewart won 49 races and three NASCAR Cup Series championships in his NASCAR career, which followed a championship and three wins in what is now known as the NTT IndyCar Series.
But for every Stewart, there is a Dario Franchitti or Danica Patrick.
Franchitti, one of the greatest drivers in IndyCar history, was only able to muster two top-10 finishes between 29 starts in the NASCAR National Series ranks. Patrick spent five full seasons in the NASCAR Cup Series and made a total of 191 starts in premier division of NASCAR and was only able to record seven top-10 finishes.
Where would Ferrucci fall in the spectrum? That remains to be seen, but if he does make NASCAR starts, it would be very fun to follow his progress.
Ferucci, a Connecticut-native, has made 35 starts in the IndyCar Series since 2018, and he has been full-time in the Series since 2019 with Dale Coyne's race team. Ferrucci has never scored a podium finish in NTT IndyCar Series competition, but he has recorded a best finish of fourth, four separate times. Furrucci's most recent fourth-place finish came at the Indianapolis 500 in 2020.