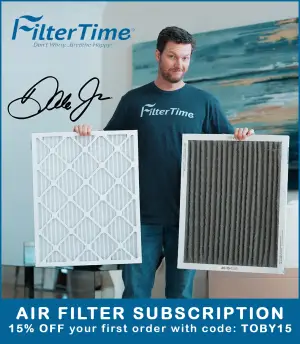 The Speedy Cash brand, which was recently acquired by Community Choice Financial, will once again return to Front Row Motorsports as a primary sponsor during the 2023 season. The brand will serve as the primary sponsorship partner for both Zane Smith and Todd Gilliland and the sponsorship will span the NASCAR Cup Series and NASCAR Craftsman Truck Series.
The company will also continue its naming rights of the NASCAR Craftsman Truck Series event at Texas Motor Speedway in 2023.
"We are excited to continue our partnership with Front Row Motorsports this season," said Raechel Peters, Senior Vice President Marketing, Community Choice Financial. "Our enthusiasm is two-fold. Everyone is eagerly awaiting the return of the Speedy Cash brand to the Cup Series with Todd Gilliland and we're excited to continue supporting champion Zane Smith, especially during the SpeedyCash.com 250!"
Gilliland will have Speedy Cash as the primary sponsor on his No. 38 Ford Mustang NASCAR Cup Series machine in six races this season, and he's excited to have the green, black and red colors back for another season.
"I am really thankful to have the support of Community Choice Financial and their Speedy Cash brand this season," said Gilliland. "The Speedy Cash colors have become popular here at FRM and it is always cool seeing the Speedy Cash Ford Mustang in the shop. I'm looking forward to another season supporting them."
---
Here is the 2023 Speedy Cash Primary Sponsorship Schedule For Todd Gilliland
Bristol Motor Speedway Dirt (April 9)
Dover Motor Speedway (April 30)
Kansas Speedway (May 7)
Pocono Raceway (July 23)
Richmond Raceway (July 30)
Bristol Motor Speedway (September 16)
---
Like Gilliland, Smith is excited to have the familiar Speedy Cash branding back on his No. 38 truck during the 2023 season, and the company will serve as an associate sponsor for Smith's first-career attempt at the NASCAR Cup Series Daytona 500.
"It's great to have Speedy Cash back on the truck at Texas Motor Speedway this year," Smith said in a team release. "By far, the coolest thing is them sponsoring the truck race and Speedy Cash Victory Lane. It will be a lot of fun to win that race for them. And I want to thank them for helping me out during my Daytona 500 debut. That's something that I've been dreaming about my whole life, and I can't do it without their support."
Speedy Cash will be the primary sponsor for Smith, the 2022 NASCAR Craftsman Truck Series champion, during the NASCAR Truck Series SpeedyCash.com 250 at Texas Motor Speedway, and the brand will serve as an associate sponsor for Smith throughout the entire 2023 season.