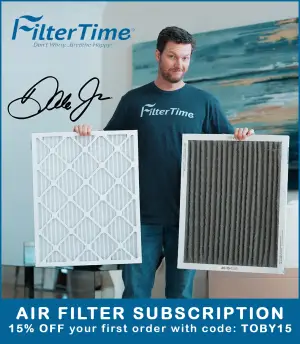 After expanding to field two full-time NASCAR Craftsman Truck Series entries in 2022, Hattori Racing Enterprises (HRE) has decided to scale the team's second entry back to a part-time effort for 2023, TobyChristie.com has learned.
A representative from HRE tells TobyChristie.com that the team is amidst discussions to field the No. 61 Toyota Tundra as a part-time venture for the upcoming season, but at this time, the entry's first scheduled race is unknown.
The part-time status for the team's second entry marks an overall pivot in the plan for the championship-winning organization, which initially announced last October that the entry would continue to be full-time, despite Chase Purdy's departure.
In mid-January, Hattori Racing Enterprises announced that Tyler Ankrum would return to the organization for a second season, piloting the No. 16 LiUNA! Toyota Tundra TRD Pro, the team's flagship entry.
Last season, Tyler Ankrum and Chase Purdy – the team's two full-time drivers – combined to secure a total of 10 top-10 results, with the team earning a season-high seventh-place finish on three occasions.
Additional announcements surrounding drivers, schedule, sponsorship, and personnel for the organization's part-time entry will be made in the coming weeks.