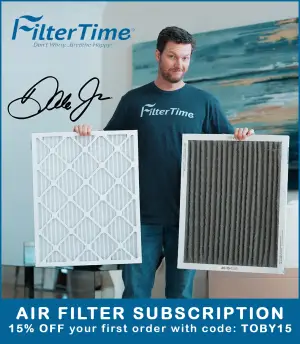 Tyler Ankrum will officially return to Hattori Racing Enterprises for the 2023 NASCAR Craftsman Truck Series season, the organization announced on Friday.
The 21-year-old racer will once again pilot the No. 16 Toyota Tundra for the organization and his longtime sponsorship partner LiUNA! will return as the primary sponsor for 21 of the 23 races in the season.
Doug Randolph will serve as the crew chief for Ankrum and the No. 16 team.
Ankrum is excited to continue forging forward with HRE in 2023.
"It's an honor to return to HRE and the Toyota family in 2023," said Ankrum in a team release. "There was already a solid foundation in place at HRE, and with the addition of Doug (Randolph) to the organization, I know we can achieve our goals as a team – get back to victory lane and be a strong playoff contender."
Hattori Racing Enterprises, which won the NASCAR Craftsman Truck Series championship with Brett Moffitt back in 2018, underwent many changes to the backend of the team this offseason.
Scott Zipadelli, who had served as the crew chief for the No. 16 team since the 2017 season, parted ways with the organization, which paved the way for the team to sign Randolph. The team is hopeful for a turnaround in Ankrum's second season with the No. 16 team.
"I'm looking forward to seeing Tyler back for his second season with our team and continuing the partnership with Toyota Racing," said HRE Owner Shige Hattori. "Tyler has been through the playoffs and has a lot of Trucks Series experience. With Doug (Randolph) coming on board for the 2023 season, we look to build great chemistry with Tyler and the team. We want to get him back to victory lane and be a strong playoff contender."
Ankrum, a native of San Bernardino, California, scored a victory during the 2019 NASCAR Craftsman Truck Series season, which locked him into the Playoffs that season. Ankrum would go on to finish eighth in the standings driving for DGR-Crosley — now Tricon Garage. In his first season with HRE, Ankrum scored eight top-10 finishes and came home 12th in the NCTS point standings in 2022.