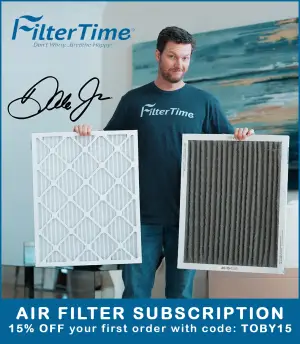 Jordan Anderson Racing Bommarito Autosport will be expanding for the 2023 NASCAR Xfinity Series season as the organization announced on Wednesday that they will move to field two full-time entries this upcoming season.
The team will field the No. 27 Chevrolet Camaro with Jeb Burton behind the wheel. Burton spent the 2022 season piloting the No. 27 entry for Our Motorsports.
The team will also field the No. 31 Chevrolet Camaro again in 2023, but the driver will change from Myatt Snider to Parker Retzlaff. Retzlaff competed in nine NASCAR Xfinity Series races in 2022 with a best finish of 10th coming at Richmond Raceway while driving for RSS Racing.
JAR will continue to utilize engines supplied by ECR Engines for the upcoming season, per the team release.
For president Jordan Anderson, the expansion is all about trusting the process of which his team has been building since its inception.
"Trusting the process and looking forward on this journey has been such a key element to the growth of our team the last two seasons," Anderson said in a release. "From where this all started after a rainout at Daytona that sidelined us for several months, having to change up the entire model and structure of how we envisioned our race team, to where we are today – and all the incredible drivers and partners that have gotten us to this point – is truly a blessing and a dream come true. Expanding to two full-time Xfinity Series cars was always a goal of ours internally, and seeing it come to life with Parker, Jeb and so many great people behind the scenes, has us all equally excited."
Retzlaff, 19, will compete for Rookie of the Year honors, and based on renders shared from the team of his No. 31 car, Retzlaff will have sponsorship from FunkAway, and Ponsse in 2023. Both companies have been longtime supporters of Retzlaff.
"I am truly humbled to be given this opportunity to race full-time with JAR Bommarito Autosport," stated Retzlaff. "Without great partners like Funkaway and Ponsse I would not be in the position today to compete at this level of American motorsport. Jordan and John have assembled a great team for me, and I know with everyone's hard work in the off-season, we will be in a great position to have a fast car when we unload at Daytona come February."
For Burton, this is a chance to rebound after a trying year at Our Motorsports. Burton will bring Alsco Uniforms, Solid Rock Carriers, Rocky Boots, Puryear Tank Lines and State Water Heaters with him to JAR in 2023.
"I'm pumped for the opportunity to join JAR Bommarito Autosport for the 2023 season," explained Burton. "I've been watching what JAR Bommarito Autosport has been assembling the last few years, and success is within reach. Jordan and I first had this conversation last summer and to see it come to life is something that I feel will be beneficial for us all as we look to build a long-term relationship here. We have so many great partners that have stood behind me for so long and I hope to be able to deliver them a great season this year with all that we have going on. I'm excited to get the season started at Daytona."
While the 30-year-old Burton didn't score a top-10 finish during his full campaign in 2022, he finished 10th in the NASCAR Xfinity Series championship standings in 2021 with Kaulig Racing. In that season, Burton scored his first career Xfinity Series win at Talladega Superspeedway, and amassed seven top-five finishes and 16 top-10s.
In a previous part-time role with JR Motorsports in 2019 and 2020, Burton showed that he was capable of running near the front consistently in the right situation, as he racked up five top-five finishes and 12 top-10s in just 18 starts with JRM.
Burton will hope to get back into his usual form this year with Anderson's team.