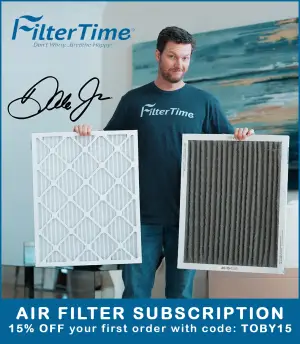 Josh Berry will have a refreshed look on his No. 8 JR Motorsports Chevrolet Camaro in 2023 as the team revealed his new Tire Pros paint scheme on Thursday.
Back are the bold Tire Pros black and red colors on the No. 8, but this year the Tire Pros logo feels like it really stands out more than it has in the past as the scheme features a strong red background on the hood. That bright red really draws your attention to the Tire Pros logo and makes it pop.
Overall, the scheme is impressive, but that should come as little surprise as Ryan Williams, the graphic designer for JR Motorsports, has really made a name for himself through his incredible designs that have adorned the JR Motorsports vehicles.
Back in October, Tire Pros announced that they would return as a primary sponsor for Berry and the No. 8 JR Motorsports team for nine races in 2023.
In total, JR Motorsports has announced sponsorship for 28 of the 33 races in the 2023 NASCAR Xfinity Series season. In addition to the nine races that Tire Pros will serve as the primary, Berry will carry the Bass Pro Shops colors in 11 races, Jarrett will return for six races and LubeZone, Inc. was announced on Wednesday as a new partner of the team for two races in 2023.