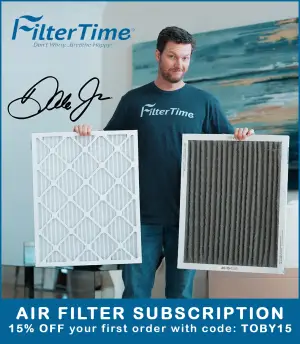 After a successful first full-time season in the NASCAR Xfinity Series, Josh Berry will have a brand-new partner adorning his No. 8 Chevrolet Camaro in a pair of events in 2023, in the form of LubeZone, Inc.
LubeZone, Inc. – the fastest growing network of preventative maintenance centers for heavy and medium duty trucks in the United States – will ride along with Berry in two events in the second half of the season at Michigan (August) and Las Vegas (October).
The organization revealed the paint scheme for Berry, as part of Wednesday's announcement:
NEWS: @LubeZoneInc partners with JRM and @joshberry for 2023.

More details ➡️ https://t.co/chREDIAjFt pic.twitter.com/m9nadnRjOi

— JR Motorsports (@JRMotorsports) December 7, 2022
Although the sponsorship marks the first foray into NASCAR sponsorship for LubeZone, the relationship between Berry and the company's co-founder and executive president, Mark Clark, is pre-existing, dating back to the Hendersonville, Tennessee-native's early Late Model days.
"It's great to be able to work with Mark (Clark) again and to welcome LubeZone to this No. 8 team," said Berry. "Mark and I had much success together in Late Models, and it's really cool to see our paths cross again and that we get to continue this journey into the NASCAR Xfinity Series together. It will make our first race in Michigan that much more special."
Founded in 2017, LubeZone provides timely preventative maintenance solutions to the transportation industry. Currently, with 11 locations across Texas, Oklahoma, California, and Georgia, the top-tier truck service company's preventative maintenance is designed to get professional drivers back on the road with their high-speed, high-quality service.
"I am excited to be back with both JR Motorsports and Josh Berry to bring LubeZone to the Xfinity Series," said Clark. "I believe our success will continue on and off the track, and we're looking forward to Josh winning the championship next year."
Throughout the partnership between Berry and Clark, the duo was able to rack up an impressive 38 victories across various short tracks in the southeast.
"We're very grateful to have Mark (Clark) and LubeZone join JRM and support Josh for these races," said Kelley Earnhardt Miller, JR Motorsports CEO. "They have a strong, successful history together from Josh's time running Late Models. Now, it's a special opportunity to have the two reunite as Josh enters his second full-time season."
In addition to the partnership at the NASCAR Xfinity Series level, LubeZone will continue to serve as a sponsor at the grassroots racing level, as Wyatt Miller – son of Kelley Earnhardt Miller – continues to compete in Outlaw Kart and Micro Sprint levels all across the United States, most notably at Millbridge Speedway.