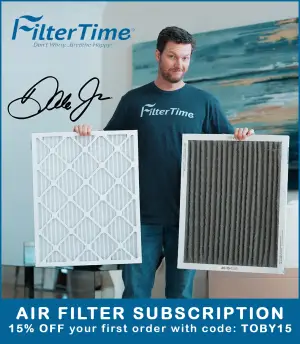 This past weekend in the ARCA Menards Series Sprecher 150 at the Milwaukee Mile, Brad Smith, the driver of the No. 48 car, knocked off a career milestone as the race marked his 400th-career start in the series.
While the day ultimately resulted in a 21st-place finish in the 28-car field, Smith ran a total of 136 of the 150 laps on the day and was running at the conclusion of the race.
It was a good day for the underdog racer, who has two-career top-10 finishes in ARCA Menards Series competition, but it was his pit crew — or lack there of — that provided entertainment for the crowd in attendance during a round of modified-live pit stops.
Dan Margetta was in attendance and he happened to film the iconic pitstop, where one crew member, Jeff Smith — Brad Smith's brother — performed every role of the pit crew for Smith. Thanks to Margetta sharing the video to Facebook, we are able to share it with you:
Jeff Smith took time out to talk to TobyChristie.com about the pit stop, and he says had it not been his brother, he would never have done a pit stop all by himself.
"I did it because it was for my brother. I wouldn't do it for anyone else," Smith laughed. "I was dying at the end of it. I'm pushing 60, man. I just kept telling myself, just get it done, then you can rest after. Even though there is no rest after."
Smith's brother's milestone start lit a fire under him. He says that earlier in the season at Elko, he was the only crew member that traveled but that he couldn't muster the courage to perform the entire pit stop by himself on that day.
"We went to Elko earlier this year, and I'll be honest I chickened out on even doing two tires," Smith admitted. "But Milwaukee, it was his 400th start and I wanted to give him his best shot. The car was pretty good."
While Smith admits the pit stop didn't set any records, he was just happy to get his brother back on track in a decent amount of time during an actual live pit stop during the race.
"It wasn't pretty, but I was happy to get the fuel in the car and get two tires on. I couldn't get four, because it was a timed stop, but I got two tires."
Smith is excited that Margetta got the pit stop on film for him to watch back, but he wishes that the fan was able to hang in there a little longer to film his major gaffe on the other side of the car.
"I wish the guy filming would have gotten the other half of the stop, because I spilled gas when I fueled the car up, and when I went around the other side, it was really slick in the stall and I fell pretty hard," Smith recalled.
No matter the obstacles, Jeff Smith would not allow his brother Brad Smith to not run the full distance in his 400th-career ARCA Menards Series start. Talk about gutting one out.