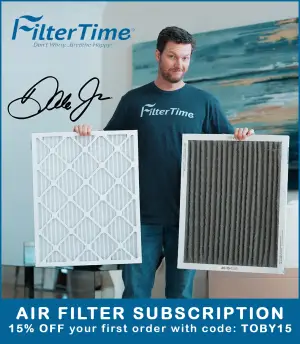 Short track racers have had success in the upper echelons of stock car racing in the last couple of years and Ty Majeski seems to be another name to add on the list.
Easily the most successful campaign of the 27-year-old's NASCAR Camping World Truck Series career, the engineer turned driver for ThorSport Racing had yet another solid run from Richmond Raceway on Saturday night in the Worldwide Express 250.
The No. 66 ThorSport Racing Toyota team gave Majeski a rocket, in which he topped practice and qualifying on Saturday prior to the 250-lap event under the lights. With a start on pole, the Wisconsin-native was able to get out to the lead for 73 circuits, the most he has ever led in a single NCWTS race.
After capturing the Stage 1 win, there was a scary incident that involved Majeski's jackman, Paul Steele on the pit stop between Stage 1 and Stage 2.
As Steele hopped over the pit road wall to perform the pit stop, his knee buckled, which caused him to fall to the ground. Majeski, who was already committed to landing in his pit stall, slammed into Steele's motionless body.
Video: Paul Steele, Jackman For Ty Majeski, Falls, Gets Hit By Truck During Pitstop
With that slight hiccup and fortunately no major injuries sustained, Majeski exited pit-road after a four-tire stop and only lost two positions. From there, it was eventual winner, Chandler Smith's race to lose and Majeski trailed a pair of Kyle Busch Motorsports teammates.
"I think it's when we lost track position, obviously getting in dirty air," Majeski said. "You always fight that a little bit. I think the track was going through a transition, just need to do a better job of keeping up with it. I called for no adjustments and wanted the same balance. Just a learning experience, these tracks go through transitions, I never practiced here and then raced here at the night. So, I really didn't have a data point on which way it was going to go."
The 2020 Snowball Derby winner has a tremendous amount of starts on smaller tracks and his short tenure in NASCAR shows his inexperience within the top-three series. However, in 2022, a combination of speed and driver skill has turned Majeski into a potential race winner on any given weekend.
"Just need to get better at [condition changes], I'm learning," he said. "[Crew Chief] Joe [Shear Jr.] and I are getting better each and every race, we're so close. I think if we keep running in the top-three then this win will come. Just super thankful for this opportunity, love coming out here and having shots to win, right? That's all you can ask for as race car driver, had a great TSport Toyota Tundra. Again, so thankful to be here."
Majeski is tied third-highest in the NCWTS field with 12 top-10 finishes and he has amassed half of those in the last seven events. Has the Wisconsin-native creeped into the picture to be amongst the championship favorites?
Chandler Smith has now scored two victories in the last of three races and Zane Smith has been the driver that the entire Playoff grid has chased this year. Despite no checkered flag grabbed by Majeski this season, let alone in his career, his teammate, Matt Crafton, was a clear sleeper pick in 2019.
Crafton was able to capture the title with zero wins accumulated in 23 races and Majeski may be shaped up for a similar run as he seems to be peaking at the right time. Majeski has racked up three less top-10s compared to Crafton's 2019 season through 18 races yet has led 145 more circuits with a total of 179.
A second-place finish is Majeski's career-best result and that was accomplished at the Spring race at Kansas Speedway, which is the next and final venue apart of the Round of 10 of the Playoffs. Majeski currently stands fifth in the 2022 NASCAR Camping World Truck Series Playoffs, 36 points ahead of elimination.