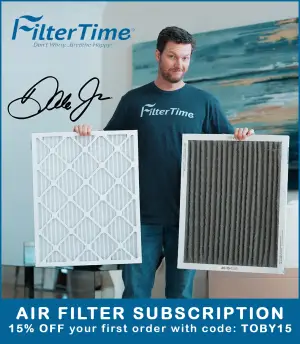 There's a reason why David Schildhouse is considered to be one of iRacing's best. Each and every time he needs a clutch win, he always seems to pull one out in the Interstate Batteries Monday Night Racing Series. It never seems to matter the track or car; all that seems to matter is that Schildhouse is in the No. 20.
This week, it was 2007 Daytona in the ARCA cars, and Schildhouse yet again pulled out a win that advanced him into the next round of the Season 5 playoffs.
At the beginning of the race, it was Garrett Smithley and playoff-contender Gary Sexton battling side by side for the first ten laps or so for the lead.
On lap 12, last week's winner and MNR Season 4 champion, Adam Cabot, who is already locked into the round of 7, rocketed up the outside to take the top spot. Cabot would then get a huge shove from Malik Ray going into turn one, would get loose, and smack the outside fence.
The chain reaction would cause a big crash, causing a number of drivers to wreck, including both Schildhouse and Sexton.
Following pit stops, Ryan Vargas and Smithley would lead us to green. The two real-world NASCAR competitors would battle side by side for the lead all the way until lap 33, when Anthony Alfredo and Ray elected to make it three wide.
Alfredo briefly held the lead, but Vargas and Ray continued to battle up front three-wide for about six laps. Then, another wreck occurred, as Alfredo threw a late block on Max Kennon while leading that stacked up the field and caused Vargas to get run over by Josh Slate. It ended up being about a five car pileup.
The field once again brought it down pit road, leaving us with Alfredo and Cabot on the front row. Immediately though, using his aggressive style, Malik Ray would find himself back in the front of the field.
Just a few laps later, Ray, Cabot, and Corey Heim would find themselves three wide out front. The lead would swap around between the frontrunners for the next few laps, until Heim tagged the wall. The entire field managed to save it, although, Heim, Pardus, and super-speedway ace George Balfanz Jr. would fall back through the field.
This ordeal scattered the front of the field significantly.
The front of the pack continued to battle aggressively, but cleanly, out in front for the lead. Two playoff contenders, Cabot and Presley Sorah, who sat right on the cutline coming into this race, would go a lap down with 23 laps to go. We also had a number of new contenders up front, including Bailey Turner and DJ Cummings.
On that very same lap, a few drivers, including Ray, Alfredo, and Schildhouse all brought it down pit road. Each would take two tires and gas, in an attempt to gain track position.
Then, with 16 laps to go, another large group would bring it down pit road, and chaos ensued.
A number of them overshot pit road attempting to get slowed down. This would not only jumble the lead pack, but also cost a lot of time on the four contenders who had already pit. Ryan Vargas was almost able to keep up with this front pack, but eventually would fall off. Similar to the Daytona RC, Alfredo and Schildhouse found a way to use strategy to gain an advantage.
The last couple of drivers pit with 14 to go, finally ceding the lead to Ray, Alfredo, and Schildhouse, who had over a 1.5 second gap back to the next cars. However, Nick Olsen and Bailey Turner would use some side-by-side between the leaders and lapped cars who were trying to un-lap themselves to not only catch the lead pack, but to challenge for the lead as well.
Then, disaster struck for the leaders with six laps to go. Malik Ray, while fighting at the front, got tangled up the lapped car of Heim, and brought out the caution. All of the front running cars were involved.
Somehow, Nick Olsen squeezed through and stole the lead, while Sorah, who was the cutoff driver and a lap down, managed to un-lap himself in the chaos.
The field would line up for a two lap shootout to the checkered flag. Olsen, Schildhouse, Ray, Alfredo, and Colin Fern would make up the top five. Finally though, the tension reached a breaking point in turn 1.
DJ Cummings would start the big one, as he attempted to make a pass below the yellow line. While merging back on track, he would be tagged by Noah Lewis, and a massive pileup ensued. But something more dramatic was happening.
In the simulator, the lobby had NOT been setup to contain Green-White-Checkered restarts. So, in reality, David Schildhouse, who had jumped out to a slight lead, had actually been given the white flag on the next lap under caution.
With no way to fix it within the simulator, the race officials had no choice but to deem the results final, granting Schildhouse the win in unbelievable fashion. A multi-car burnout celebration ensued.
The final results would have Schildhouse first and Olsen second. Anthony Alfredo, who had won both plate races up to this point, would wind up third, with Ray in fourth, and Colin Fern rounding out the top five. In terms of playoff standings, Daytona would send Gary Sexton, Max Kennon, and Will Rodgers all packing. The round of seven has been set, with Cabot, Alfredo, Schildhouse, Vargas, Bickford, Sorah, and Fern all set to continue competing for the Monday Night Racing Championship.
Race Results
David Schildhouse
Nick Olsen
Anthony Alfredo
Malik Ray
Collin Fern
Ryan Vargas
Bailey Turner
Garrett Smithley
Matt Stallknecht
Robby Lyons
Mark Rebilas
Brad Perez
Preston Pardus
James Bickford
Presley Sorah
Justin Melillo
Joshua Slate
DJ Cummings
Bayley Currey
Noah Lewis
Seth Eggert
Gabe Wood
Adam Cabot
Kase Kallenbach
Ford Martin
Will Rodgers
Gary Sexton
Charli Brown
Reid Wilson
George Balfanz Jr.
Steve Auffant
Mike Clay
Corey Heim
Michael Massie
Max Kennon