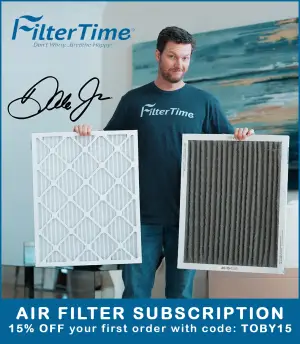 Brad Perez, who made his first two NASCAR Camping World Truck Series starts earlier this season, will now make his NASCAR Xfinity Series debut this weekend at the Indianapolis Motor Speedway Road Course, driving the No. 13 entry for MBM Motorsports.
Perez, 25, made the announcement on Twitter on Monday.
im gonna be in d car this week 😭

so grateful and honored to be attempting my first @NASCAR_Xfinity race this weekend at the famous @IMS!!!

thank you so much @ApexRoasters, @VictorySimLLC, @GreenTechEnerg3 for sticking by me and making this dream come true pic.twitter.com/G9TdyETjEb

— bread perez (@bradxperez) July 25, 2022
For Perez, making his driving debut in the NASCAR Xfinity Series is wild because this is the series where his official NASCAR career began.
"The NASCAR Xfinity Series garage is where I first worked in my NASCAR journey," Perez said to TobyChristie.com. "This is where I know the most people, where I'm most familiar. to have the opportunity to make my first Xfinity Series start means so much to me, and to do it with one of the longtime veterans of the sport like Carl Long and MBM Motorsports is surreal."
The driver will have sponsorship backing from Apex Coffee Roasters, Greentech Energy, AutoRepairVinStickers.com and Victory SIM. According to Perez, this deal was put together right before Pocono race weekend and it was only possible due to longtime friends in the sport helping him push it all through.
"This all came together right before Pocono and it wouldn't have been possible of it weren't for Will Rodgers, Josh Reaume and Tamara and Dane Laster for being so nice to me," Perez explained. "The whole Laster family are like family to me. I was actually flying into Pocono as we made the last phone calls to make this happen."
In addition to the Laster family, which own AutoRepairVinStickers.com, Perez also gives massive thanks to Apex Coffee Roasters, who have stuck with him through all three of his NASCAR National Series starts.
"Last but not least, I have to thank Apex Coffee Roasters for believing in me," Perez stated. "It's crazy to consider them longtime partners but now being with me for three races, that's the longest someone has ever stuck with me and it means the world. They're big road course people, so to have their logos fly around the famed Indianapolis Motor Speedway is a huge deal."
The Florida-native cut his racing teeth in the SCCA in the Spec Miata division and he has served in many roles inside the industry, aside from driving.
Perez has served as a tire specialist for several teams including JD Motorsports, Martins Motorsports and Rackley WAR Racing in the NASCAR Xfinity and NASCAR Camping World Truck Series ranks. And he also served as a crew chief for Willie Mullins and the No. 3 team in the ARCA Menards Series event at Talladega Superspeedway earlier this year.
At Circuit of the Americas back in March, Perez scored a 20th-place finish driving for Reaume Brothers Racing in his NASCAR Camping World Truck Series debut. He followed that solid debut with a 22nd-place finish at Sonoma Raceway for the team in June.
Perez also made one ARCA Menards Series start at Watkins Glen in 2021, but finished 24th after a brake issue ended his day after 25 of the 41 laps were completed.
In an interview with TobyChristie.com back in March, Perez revealed that in just three years, he had gone from being a valet at Margaritaville in Hollywood, Florida to being a NASCAR National Series racer.