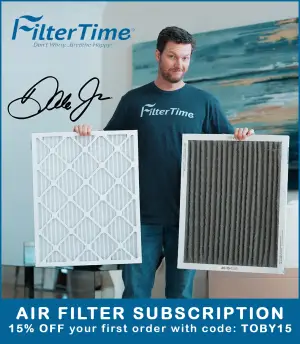 Brandon Brown, who enters this weekend's NASCAR Xfinity Series Explore the Pocono Mountains 225 at Pocono Raceway 13th in the series point standings, will not run next weekend's event at the Indianapolis Motor Speedway Road Course.
Austin Dillon, driver of the No. 3 entry for Richard Childress Racing in the NASCAR Cup Series, will fill-in for Brown. Dillon will drive a black and teal No. 68 Chevrolet Camaro with sponsorship from Maestro's Classic. The paint scheme has surfaced on social media.
According to a statement Brandonbilt Motorsports, which fields the No. 68 NASCAR Xfinity Series entry, Brown will return to drive the car at Michigan International Speedway, but will have to leave the seat of his family-owned team next weekend due to a lack of funding.
"We are diligently working to secure the necessary funding that is needed to keep Brandon in the No. 68 for the remainder of the 2022 NASCAR Xfinity Series season and we look forward to his return the following weekend at Michigan International Speedway," said team co-owner and Brown's father Jerry Brown.
Here is the full statement released by BMS:
Team statement regarding a driver change for next weekend's NASCAR Xfinity Series race at Indianapolis Motor Speedway pic.twitter.com/nDo7StEheS

— Brandonbilt Motorsports (@BMSRaceTeam) July 22, 2022
Brown will move over to the No. 47 Mike Harmon Racing entry at Indianapolis to keep his Playoff eligibility intact, as drivers must attempt to qualify for each event in order to run for the championship in the NASCAR National Series ranks.
Through 18 races in 2022, Brown has scored one top-five finish — a third-place finish last weekend at New Hampshire Motor Speedway — and three top-10 finishes.
For Dillon, who sits outside the NASCAR Cup Series Playoffs cutline with six races remaining until the Playoffs begin, this will provide him extra seat time at a newer road course on the schedule in hopes that he can gain a leg up on the competition.
Dillon, 32, was the 2013 NASCAR Xfinity Series champion and he has nine NASCAR Xfinity Series wins to his name through his career.
Brown looked like his star in the sport was rising, as he scored his first-career NASCAR Xfinity Series win last fall at Talladega Superspeedway. Unfortunately, as he was conducting his victory interview with NBC's Kelli Stavast, Stavast misinterpreted a derogatory chant from the crowd in reference to President Joe Biden as, "Let's go Brandon."
The phrase grew in popularity, and Brown being tied to it crumbled his sponsorship search. In the offseason, Brown and his Brandonbilt Motorsports team landed sponsorship from Let's Go Brandon Coin (LGBCoin) in an effort to utilize the phrase for good and to help turn his career around.
Unfortunately for Brown and his team, NASCAR denied the sponsorship after the team made the announcement and the No. 68 team has been attempting to land additional sponsorship ever since.