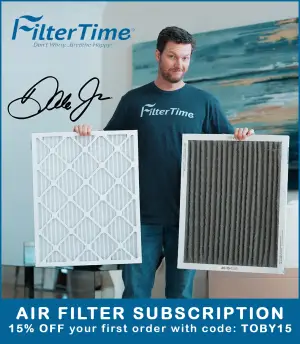 UPDATE: Monday, February 3, 2022 at 12:00 PM ET:
Sam Hunt Racing has revealed the full terms of their multi-race deal with Jeffrey Earnhardt and ForeverLawn. Earnhardt will run a total of seven races with SHR with ForeverLawn as the primary sponsor.
Here is the seven-race schedule:
February 19, Daytona International Speedway (No. 24)
February 26, Auto Club Speedway (No. 26)
March 19, Atlanta Motor Speedway (No. 26)
May 21, Texas Motor Speedway
May 28, Charlotte Motor Speedway
June 25, Nashville Superspeedway
September 16, Bristol Motor Speedway
---
ORIGINAL STORY: Friday, January 14, 2022 at 10:07 AM ET:
One day after confirming Ryan Truex as the first driver to the No. 26 Toyota GR Supra in 2022, Sam Hunt Racing is confirming another driver to add to the expected growing roster for the entry this season.
Jeffrey Earnhardt will join SHR in a multi-race deal for the 2022 NASCAR Xfinity Series season. The move to Toyota marks the first time since 2019 that Earnhardt will pilot a Toyota entry in NASCAR's second-highest touring series.
"I'm really excited to be back in the Toyota camp. My past experience with them was incredible, and they do a great job supporting their drivers," Earnhardt said on Friday. "Sam and I formed a nice friendship over the years, and I'm impressed with what he's achieved in a short amount of time. I feel like we share the same work ethic, and both of us are working hard to achieve our dreams. Having ForeverLawn in our corner is truly a gift. They have become my family, and our relationship extends well beyond racing. We have three like-minded parties working together towards a common goal. It's going to be an exciting year."
Earnhardt revealed in November his intention to leave JD Motorsports to explore new options in 2022. Disregarding the number of races for a potential new deal, Earnhardt wants a fresh start and the opportunity to win races. His time at Toyota with Joe Gibbs Racing proved to be some of the strongest performances of his career in the series.
Sam Hunt Racing proves a viable option for Earnhardt. With the team consistently seeing a rise in performance on the track since their debut in 2019, SHR is set to become an underdog favorite with the opportunity to surprise in 2022.
"Having Jeffrey join Sam Hunt Racing is really exciting for our entire team and the Toyota Racing family," said team owner Sam Hunt. "Jeffrey is a great guy, and he's someone I've always admired for how he carries himself on and off the track. He's a great person, and his sponsors at ForeverLawn match a lot of what SHR stands for. It's going to be a fun season with him and the ForeverLawn team, and we're excited to get to work."
Earnhardt will bring ForeverLawn with him from his time at JD Motorsports. The company first joined the 32-year-old in 2020 before expanding their partnership in 2021 to cover over half of the Xfinity Series schedule.
"We're excited to continue supporting Jeffrey in this partnership with Sam Hunt Racing," says Dale Karmie, co-founder of ForeverLawn. "Sam Hunt Racing is an up-and-coming team with quality people and equipment with an impressive record of success. We're excited by the opportunity these races provide for us to deepen our relationship with this high-caliber team."
Further details on the races for Earnhardt, as well as the No. 26 ForeverLawn paint scheme, will be shared at a later date.