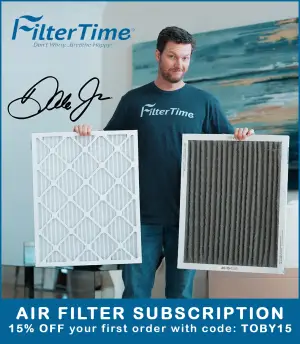 In an absolutely earth-shattering piece of news revealed on Wednesday, Trackhouse announced on Wednesday that the organization has purchased Chip Ganassi Racing's NASCAR operation.
The deal came together rather quickly after Marks called Ganassi to discuss the potential offer within the last few months.
The agreement was met, and the future for Trackhouse is now taking shape.
"This is a landmark moment for Trackhouse Racing," said Marks. "It is humbling to know we have secured our position in NASCAR for the next decade. These are never decisions made without a lot of thorough consideration and deep reflection by both parties. This process took several weeks and I want to thank Chip for being so open and candid with me every step of the journey. Chip has built an iconic motorsports empire and the Ganassi brand is globally recognized as a winner in the auto racing industry. It is truly an honor that we can build from that foundation. This acquisition provides Trackhouse a platform for years to come, enabling us to field multiple teams, elevate our on-track performance, deliver great value for our sponsors and partners, build lasting community impact programs and continue to grow our brand beyond the sports conversation.
Ganassi, with a decorated career as a motorsports owner, clarified that his NASCAR operation was never for sale. However, the offer that Marks presented was worth sitting down and analyzing.
The transfer of all assets to Trackhouse will be completed immediately following the final NASCAR race of the season in Phoenix.
Two charters will be a part of the deal for Daniel Suarez, and another driver to be announced at a later date. Marks mentioned in the media availability on Wednesday that there is a "shortlist" for who would take over the second car. Kurt Busch has stated before that Trackhouse contacted the 2004 NASCAR Cup champion earlier in the season, but he would hear from CGR first on any potential future deals as a sign of respect.  As for the shop, Trackhouse Racing will operate out of the current CGR shop for 2022. The parent company, Trackhouse Entertainment Group, will remain based in Nashville.
"I think this is a great day for NASCAR as it seems like there are so many people that are wanting to get into the sport as owners – Michael Jordan, Pitbull, Denny, and plenty of others," Ganassi said. "They are bringing new perspective, vision, and insight which is great for the sport. NASCAR has been building momentum over the last few years and I am confident that it will continue to do so. Also, I can honestly say that my NASCAR team was not for sale. Justin simply came to me with a great offer and an even better vision. As everyone knows, I care deeply for my employees so selling to someone like Justin, who is part of the CGR family, made the reality of selling much easier. He knows our organization and the people. That gives me comfort. Everyone needs to know that I am still completely dedicated to the motorsports industry and will continue to run my other teams in INDYCAR, IMSA, and Extreme E with the same enthusiasm that I always have."
As far as the future of Chip Ganassi Racing, they'll continue in motorsports such as the NTT Data IndyCar Series despite the sale of the NASCAR operation.
This is a developing story and will be updated as more information becomes available.