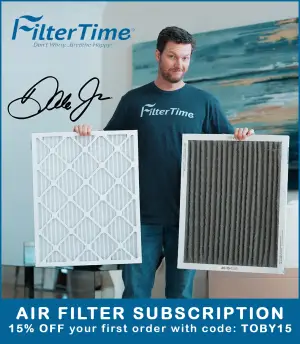 On Saturday Afternoon, Chase Briscoe took the opportunity to show everyone his best impression of Ty Gibbs, by participating in – and dominating — the ARCA Menards Series West General Tire 200 at Sonoma Raceway, leading all 51 laps en-route to his first career ARCA Menards Series West victory.
Chase Briscoe burnout in celebration of ARCA West win at Sonoma. pic.twitter.com/dgOCnKVjqX

— Bob Pockrass (@bobpockrass) June 5, 2021
Although Briscoe held a commanding lead throughout the entire event, the NASCAR Cup Series Rookie of The Year Contender had to hold off a pack of hungry drivers on a series of late-race restarts, which allowed the field of 22 to create more chaos, resulting in… you guessed it, more restarts. In fact, four of the race's seven cautions flew within the last 14 laps, including the final one for an accident between Jake Drew and Dave Smith.
Dylan Lupton – driving for Bill McAnally Racing — finished in second-place, with Paul Pedroncelli Jr, Cole Moore and Todd Souza rounding out the top-five. Dean Thompson, Jake Drew, Bridget Burgess, Ryan Philpot and Bobby Hillis Jr. rounded out the top-10.
Exiting the second race of the year at Sonoma, Todd Souza holds the points lead by a single point over Paul Pedroncelli Jr, with Cole Moore, Dean Thompson and Trevor Huddleston rounding out the top-five in points.