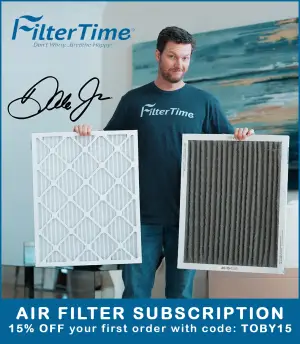 Entering the Bucked Up 200 at Las Vegas, Camping World CEO Marcus Lemonis fielded a whopping ten Camping World sponsored entries from big-name teams, to the smaller, underfunded operations.
It was all apart of what seemed to be a random tweet by Lemonis on Monday, that eventually sent the NASCAR Twitter community ablaze. Over 1,000 responses later, Camping World successfully rolled out the near dozen entries adorning the companies trademark blue and yellow color palette.
Here is where all ten trucks finished Friday evening.
Camping World Sponsored Trucks Unofficial Results

7.) Grant Enfinger

8.) Parker Kligerman

18.) Sheldon Creed

21.) Dawson Cram

26.) BJ McLeod

27.) Jordan Anderson

30.) Raphael Lessard

31.) Jesse Iwuji

33.) Norm Benning

35.) Tyler Hill
---
Highlights
Grant Enfinger in his surprise start with CR7 Motorsports went rather smoothly. The Alabama driver was one of the top performers of the ten car group for a majority of the evening, coming home in the seventh position.
In his lone start in the 2021 Camping World Truck Series season, Parker Kligerman kept a relatively clean race to bring his No. 75 Truck home eighth.
Thanks to those finishes, Lemonis will up his original $15,000 funding to $25,000.
Hey @NASCAR_Trucks ..time running out … 15k for a wrapped truck.. the 15k turns into 25 with a top 10, 35 with a top 5 and 50 with a win instead of 15 …. IN or OUT ? #campingworldnascar pic.twitter.com/ISfzB8f54O

— Marcus Lemonis (@marcuslemonis) March 2, 2021
Both Kligerman and Enfinger are the only two drivers eligible for the bonus thanks to the finishing position.
As for the other eight, a number of drivers involved in the promotion were involved in some on-track accidents that hindered their chances at snagging Lemonis' bonus proposal.
Raphael Lessard saw his hopes dashed after contact with David Gilliland with less than 50 laps to go.
There's almost no time to react when things go sideways. pic.twitter.com/s2sDsWAYTI

— NASCAR Camping World Trucks (@NASCAR_Trucks) March 6, 2021
Defending series champion and GMS Racing driver Sheldon Creed was a favorite to potentially park his Camping World truck in victory lane, but not after a spark plug issue in Stage 2 hindered his chances. Being involved in a final stage wreck would resort the 23-year-old to 18th.
Tyler Hill spun towards the infield grass with under 20 laps to go, which sent Cory Roper into the outside retaining wall driver side first.
https://t.co/UOgb79EHEx pic.twitter.com/PvSresRaid

— FOX: NASCAR (@NASCARONFOX) March 6, 2021
Roper walked away under his own power. Hill went on to finish the worst of the ten drivers, in the 35th position.
Finally, fan-favorite Jordan Anderson saw his hope of a top-10 finish dwindle following contact with Brett Moffitt and Tyler Ankrum with just a few laps remaining.
Tyler Ankrum and Jordan Anderson are done for the night with 11 laps to go … pic.twitter.com/Ul05XqpPIz

— FOX: NASCAR (@NASCARONFOX) March 6, 2021
Anderson was able to continue, but only to a 27th place finish.
---
What's next?
After a successful rollout and campaign for the NASCAR Camping World Truck Series, Lemonis already has his eyes on his other racing series to lend a hand to- the NHRA Camping World Drag Racing Series.
Which @CampingWorld @nhra drivers are unsponsored for the season kickoff next weekend in Gainesville? Use #campingworldnhra to let me know? pic.twitter.com/N42WHchP9m

— Marcus Lemonis (@marcuslemonis) March 6, 2021
While there's no confirmation if the business mogul will ever come back for a second go-around with his sponsored entries, he took to Twitter following the race to express his appreciation to the series, and its drivers.
I am so proud of all the @NASCAR_Trucks … I will teach you the business side of racing… you keep showing us what determination looks like… @CampingWorld pic.twitter.com/Al32bvGTOA

— Marcus Lemonis (@marcuslemonis) March 6, 2021