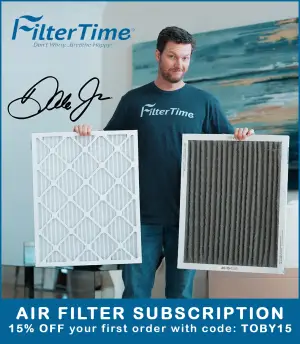 Social media is a powerful tool when used correctly, and no driver in NASCAR knows that better than JD Motorsports' Ryan Vargas.
His fan-favorite TikTok sponsorship was started from social media thanks to a concept scheme from Ryan Pistana. Now, lightning has struck twice, and Vargas is adding yet another sponsor thanks to social media, and an unlikely source.
Heading into the Daytona road course this weekend for the Super Start Batteries 188, Vargas and New Orleans Saints running back Alvin Kamara will join forces featuring Kamara's "The Big Squeezy" as a primary sponsor.
🚨NEWS🚨

Beyond excited to announce that I've teamed up with @Saints RB @A_kamara6 & his company The Big Squeezy for this weekend's race at the Daytona Road Course!

Alvin's excitement about NASCAR is unmatched & I'm honored to be the guy he jumps into the sport with!💪🏼🚀 pic.twitter.com/p9FyUlGCzl

— Ryan Vargas (@RyanVargas_23) February 17, 2021
"When this opportunity presented itself, I knew I couldn't let it slip by," said Kamara. "I did a bit of research on Ryan as an individual and JD Motorsports and was impressed with what I read. I'm excited to play a small role in what they already have going on. In the same breath, I'm just as excited for the opportunity that this gives The Big Squeezy. With us gearing up for franchising our new express concept in 2021, I think this gives us an avenue to express our passion for serving healthy fresh foods and juices throughout the country!"
The Big Squeezy is a chain of juice bars in Louisiana in which Kamara co-owns.
The deal for Vargas started out, where else, social media.
Vargas tweeted out to his 11-thousand plus followers on Twitter that the No. 6 Camaro was without a sponsor heading into the Daytona road course race.
Hey guys!

I don't normally make posts like this, but headed into this weekend we have no primary sponsor on the car for the Daytona Road Course.

We're working hard to secure partners for this year, & if you or someone you know is interested, reach out!

Let's make it happen!💪🏼 pic.twitter.com/2eYPNikAvZ

— Ryan Vargas (@RyanVargas_23) February 15, 2021
It wasn't long before followers of the California driver were trying to get every sponsor possible involved from TikTok, to Airheads, and even NFL Running back Alvin Kamara.
👀👀👀 ok how do I do this . Lol @RyanVargas_23 wassup!?

— Alvin Kamara (@A_kamara6) February 15, 2021
The NASCAR designers of Twitter got hard at work crafting their own editions of what the No. 6 could look like for Daytona, with many trying their hand to involve Kamara and his branding.
Kamara himself became a major NASCAR fan last season and attended multiple races in person.
Less than 48 hours later, the deal was made for the blank red JD Motorsports Camaro to be adorned in orange of the juice bar.
"Having the opportunity to work with Alvin Kamara and The Big Squeezy is such a huge honor," Vargas told NASCAR.com. "As one of the best running backs in the game, I know Alvin puts 110% effort into everything he does and that can easily be said for myself and our No. 6 JD Motorsports team."
Fans can see "The Big Squeezy" Camaro hit the track on Saturday for the Super Start Batteries 188. Coverage begins at 5 PM EST on FOX Sports 1 and the FOX Sports app.