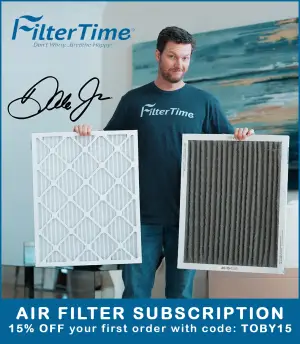 Brothers Ronnie Bassett Jr., 25, and Dillon Bassett, 23, will be a bit more active during the 2021 NASCAR Xfinity Series season, as their family has founded a brand-new NASCAR Xfinity Series team — Bassett Racing.
On Monday, Ronnie Bassett Sr. disclosed to TobyChristie.com that the team will run the No. 77 Chevrolet Camaro and will attempt to run the full 2021 NASCAR Xfinity Series schedule with the brothers sharing the ride. The team is also open to possibly adding drivers to the rotation in select events.
Nathan Kennedy will be the crew chief for the operation. Kennedy served as the crew chief for the Bassett brothers a season ago at DGM Racing.
Bassett Sr. says all but one car in their stable are former Richard Childress Racing cars that the family purchased two years ago.
This is not the Bassett family's first foray into race team ownership. The Bassett Racing team fielded cars in the NASCAR K&N Pro Series East and West from 2013 to 2018 for both Ronnie and Dillon. Both brothers won a race each in the East Series, and Ronnie finished top-five in points (third and fourth) in 2017 and 2018.
The team has secured a sponsor for the season-opening event at Daytona International Speedway in Jerry Hunt Supercenter, a car dealer located in Lexington, NC a well as East Coast Wings and Grill Restaurant.
In races where additional sponsorship is not found, the Bassett family business — Bassett Gutters and More Inc. will serve as the primary sponsor on the No. 77 car this season.
Elder brother Ronnie will handle driving duties in the Beef. It's What's For Dinner. 300 at Daytona. This will mark Bassett's first-ever start at a superspeedway event, if he can make it into the field.
The team will have no points to fall back on and will have to qualify their way into the field on speed. It's expected that there will be a tremendous amount of drivers and teams vying for a position all three of the NASCAR National Series events at Daytona next weekend.
The team is busy thrashing to get their cars ready while also moving into their 7,500 square foot shop, the same shop that suffered fire damage back in 2016. The shop has been fully repaired and they will be back to running out of their shop in Winston Salem.
The Bassett brothers have both performed well in part-time duty with DGM Racing over the past couple of seasons in the NASCAR Xfinity Series. Ronnie's career-best finish in 17-career starts is 15th, which he has achieved twice. Dillon has a pair of 13th-place finishes to his credit in eight-career NXS starts.