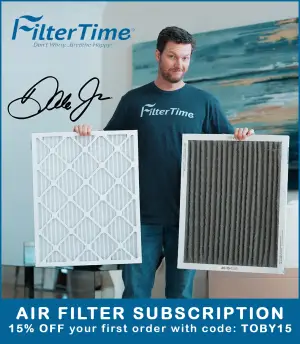 Erik Jones will have a new name on his Richard Petty Motorsports No. 43 Chevrolet Camaro in the exhibition Busch Clash event at the Daytona International Speedway Road Course on February 9th, as RP Funding will step on board as the primary sponsor.
RP Funding is an Orlando-based mortgage company. According to a press release from RPM, this is a one-race deal for RP Funding.
"RP Funding is proud to partner with Richard Petty Motorsports and driver Erik Jones," RP Funding President Robert Palmer said. "Having the opportunity to display RP Funding in the Busch Clash will be highly beneficial to broaden our community awareness as Florida's No Closing Cost refinance lender. We hope that NASCAR fans will call RP Funding for their mortgage needs in Florida."
Jones, 24, who won the Busch Clash a season ago in dramatic fashion with a battered race car, is excited to get rolling with his new team in 2021.
"I am looking forward to the Clash at DAYTONA, and getting started for the first race of the year with a new team," Jones said. "Obviously, getting to race on the road course will breakdown what our race cars are doing and, also help us to look ahead for the points race as well. I am excited to get to Florida with those guys and get to business. We are looking forward to having our new partner, RP Funding, on-board for that race as well. It will be pretty cool. I am excited to get to know those guys and have them on the car and hopefully go out and get a strong first run for them."
In his first four full-time NASCAR Cup Series seasons, Jones has two-career points paying wins, and he has made the Playoffs twice. In 2020, Jones finished 17th in the year-end championship standings, driving for Joe Gibbs Racing. Jones will start fresh in 2021 with Richard Petty Motorsports in the iconic No. 43 car.