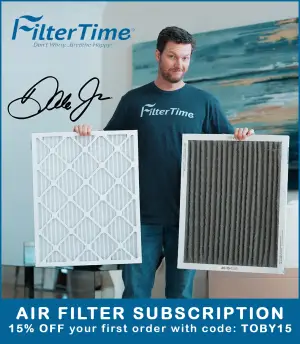 It took Kyle Larson a pain-staking 13 years to capture his first Golden Driller — the trophy handed out annually to the winner of the famed Chili Bowl Nationals in Tulsa, Oklahoma. However, he only had to wait 365 days to take his second victory in the iconic dirt midget event.
On Saturday night — well, Sunday morning — Larson bested a star-studded field, which included Christopher Bell, Ricky Stenhouse Jr. and a who's who list of the greatest dirt midget racers in the country.
Larson, who led every lap of the 50-lap feature, looked to possibly be handing the win over to Christopher Bell as he began to make errors in the closing laps, which helped Bell close the gap for the lead.
But with two laps to go, Bell hit the cushion, which sent his No. 84X midget violently tumbling.
Video: Christopher Bell Flips Violently While Battling for the Lead in Closing Stages of 2021 Chili Bowl
From there, Larson had to buckle down to hold off Justin Grant for the victory.
"Oh yeah, [Bell] was putting a lot of pressure on me," Larson said after the win. "You know, I come off of [turn] four, as the leader you're looking at the board every time you come off of four and I glanced up one time and saw a white car flipping and I'm like, 'Oh my gosh, that was Bell. I dodged one,' but yeah, then I just had to get my mind back focused because Grant was putting a ton of pressure on me, even almost as much as Bell was. I knew I wasn't done. I just still knew I had to put together two or three good laps."
"Bell is the best in here so once he's out, it takes a load off everyone."

How the Christopher Bell crash changed the complexion of the Chili Bowl — even though Kyle Larson still had to manage Justin Grant. pic.twitter.com/Y8vjh6m0SH

— Matt Weaver (@MattWeaverRA) January 17, 2021
Tanner Thorson, Cannon McIntosh and Daryn Pittman rounded out the top-five finishers in the event.
. @KyleLarsonRacin goes back to back! #ChiliBowl2021 pic.twitter.com/RBQacfVlSI

— DB3 INC (@DB3Inc) January 17, 2021
As far as other NASCAR names in the field, Ricky Stenhouse Jr. finished seventh and Bell ended up 14th on the scoring sheet following his wild flip.
Former NASCAR drivers Brad Sweet and Rico Abreu finished eighth and 16th respectively.