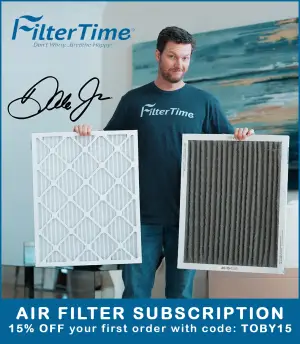 With the 2020 NASCAR Cup Series season preparing to write the final chapter of the year, many eyes are locked into two major storylines.
First and foremost, NASCAR will finally crown its champion of a season unlike any other year before. Two drivers are seeking their first championship title in Denny Hamlin and Chase Elliott, while the Penske duo of Brad Keselowski and Joey Logano are looking for their second.
The other storyline centers around Jimmie Johnson – arguably one of the greatest drivers the NASCAR Cup Series has ever seen. With a historic seven championships (five in a row from 2006-2010) and 83 wins, Johnson's career dominance is seen once in a generation.
So.. what else is ending this season?
Let's have a closer look at some of the more notable endings :
---
Clint Bowyer
This weekend's race in Phoenix will be the final race for the charismatic driver.
Competing in what will be 541 races in his Cup Series career, Bowyer will leave the No. 14 Ford and head into the FOX NASCAR booth full-time starting in 2021.
The move to the booth is a popular one among fans – after viewing his talent behind the microphone from the Xfinity Series to his more recent eNASCAR Pro Invitational stint with fellow FOX colleague Jeff Gordon.
The friendly banter between the two drivers was loved among fans on social media.
Spanning a career from 2005 to 2020, Bowyer found victory lane ten times with half of those wins coming from his time at Richard Childress Racing. He drove for Michael Waltrip Racing from 2012-2015, enjoying a career best season in 2012. After spending one season at HScott Motorsports,  Bowyer found his final home at Stewart-Haas Racing, taking over the No. 14 entry from owner Tony Stewart.
Chase Briscoe will take the reigns of the No. 14 Ford beginning in 2021 with backing from HighPoint.
---
Germain Racing & Leavine Family Racing
Two teams that have been in the Cup Series field for nearly 700 races combined will both close up shop after Phoenix.
Germain Racing made their Cup Series debut in 2008, and ran a limited schedule in 2009 with Max Papis. GEICO Insurance has been on the hood of that car for nearly every start of the (what will be) 423 starts in Cup.
Earlier this season, it was announced that GEICO would not renew their longtime partnership, and Germain was unable to secure a sponsor for 2021, resulting in the team closing. Ty Dillon, who has been the driver of the No. 13 Camaro since 2017, has not confirmed his 2021 plans but intends to continue driving in some capacity.
The charter for Germain Racing was sold to Denny Hamlin and Michael Jordan, giving the newly formed team, 23XI Racing, guaranteed entry to every race for 2021.
As for Leavine Family Racing – their nearly 10 years in the series will also end this weekend in Phoenix. With the COVID-19 pandemic being the determining factor due to funding the team, owner Bob Leavine confirmed the rumored news in August.
Spire Motorsports and LFR made an agreement a week later that Spire would acquire the assets to LFR following Phoenix this weekend. Spire will expand to two cars in 2021, while LFR driver Christopher Bell will to the No. 20 JGR Camry.
LFR's driver history includes names such as Matt DiBenedetto, David Starr, Kasey Kahne, and Michael McDowell.
---
The No. 88
Next season, the fourth Hendrick Motorsports entry will drop the No. 88 in favor of the iconic No. 5 when Kyle Larson makes his return to the NASCAR Cup Series.
The No. 88 has been full-time in the series since 1996 with Dale Jarrett and his time at Robert-Yates Racing. Jarrett holds multiple records  for the number including most races started at 380, and most race wins at 26.
The number followed Dale Earnhardt Jr. to the team in 2008. Earnhardt immediately brought a trophy home with the number in the 2008 edition of the BUSCH Clash.
Earnhardt holds the second most starts for the number with 340, as well as nine wins and 73 top-5 finishes.
This weekend will likely break a long standing streak for the No. 88 (unless used by another team in '21)

The 88 has been full time since 1996.

In addition, the No. 88 has made at least one start consecutively since 1949 (excluding 1993).#NASCAR pic.twitter.com/Jb7BJ5y0Xd

— Michael Carey (@ItsMichaelCarey) November 5, 2020
Darrell Waltrip and Buddy Baker place third and fourth in all-time starts with the number – with 161 and 123 respectively. Baker never won in the number, but Waltrip took the No. 88 to Victory Lane 26 times.
The current driver of the No. 88, Alex Bowman, added two wins to the long  legacy of the number. He will move to another iconic number,  the No. 48, in 2021.
---
Go Fas Racing (full-time effort)
Go Fas Racing is the third full-time team to confirm that their plans for competition in the Cup Series are changing for next season.
While Leavine Family Racing and Germain Racing are closing altogether, GFR will scale back to a part-time effort in 2021.
The team found driver and schedule stability in 2017 when Matt DiBenedetto signed on as their first full-time driver. He remained there for two seasons before Corey LaJoie took over the No.32 in 2019, and has been the driver since.
The team has not had the greatest of successes since owner Archie St. Hilaire began in the sport, but has been a staple in recent years in the Cup Series field.
Go Fas Racing will run between 4-6 races in 2021 with those races, and driver to be announced at a later date.
LaJoie is still seeking a driving opportunity for 2021.
As for the team charter, NASCAR Xfinity Series team owner BJ McLeod and former NASCAR driver Matt Tifft will take Hilarie's share of the charter (in conjunction with Joe Falk) to run next season in the Cup Series.
Similarly to GFR, the driver(s) and sponsor(s) are to be announced.
---
Chad Knaus
In what is a strike of fate, Johnson's long-time crew chief and William Byron's current crew chief Chad Knaus will step down from the pit box after Phoenix.
Knaus worked hand-in-hand with Johnson on his way to seven NASCAR Cup Series titles. In addition to those titles, Knaus is credited with 81 wins with Jimmie, 218 Top-5 finishes, and 37 pole awards. Add in his two seasons with Byron, and Knaus adds one win, 9 top-5 finishes, and 5 additional poles.
Knaus first began his crew-cheif career in 2000 with Casey Atwood at the inception of Evernham Motorsports. After calling the shots for Stacy Compton in 2001, he would move over to Hendrick Motorsports to start on top of the box for some fresh-faced rookie from El Cajon, California. That 2002 season lead to one of the most impressive rookie campaigns for the future seven time champion.
Knaus will move over to a executive role at Hendrick Motorsports starting in 2021.
Rudy Fugle, one of the most decorated NASCAR Gander RV and Outdoors Truck Series crew chiefs of all-time, will reunite with Byron next season.
---
Matt Kenseth
One of the biggest storylines for the 2020 NASCAR season was the racial slur uttered by Kyle Larson over an iRacing livestream.
The moment that was seen by thousands later on via social media cost the young star his ride in the No. 42 that he occupied since the 2014 season. Chip Ganassi Racing turned to Cup Series veteran Matt Kenseth to fulfill the obligation of the No. 42 for the remainder of the season.
The move seemed popular among fans that he was returning, but the performance on track was not up to the typical bar of the No. 42. Kenseth only found the Top-5 once and led only 13 laps as of this article.
This is not the first time that the Cambridge, Wisconsin driver was called in to help a team on the Cup side.
When Kenseth didn't have a ride for 2018 after leaving Joe Gibbs Racing, he re-joined his former home at Roush Fenway Racing to help try and get the team back on track in the struggling No. 6 Ford that was occupied by Trevor Bayne.
Ross Chastain will move into the car in 2021, leaving Kenseth out of a ride for next season. Kenseth will likely not race again next season, as many of the top rides are now filled in the Cup Series.
The No. 42 @CGRTeams Camaro will have a special decklid design thanking @MattKenseth for stepping in for the 2020 season. @DiecastKings will also be on the decklid#NASCAR pic.twitter.com/0saXGOTUR9

— Michael Carey (@ItsMichaelCarey) November 5, 2020
---
A season unlike any other, there are many storylines, and chapters that will close after this historic weekend on the way. Silly Season 2020 is still in full swing with more moves, especially down in the Xfinity Series, expected to come to fruition soon.
With the Next Generation car on the way in 2022, these are only some of the first glimpses of what the future of NASCAR will look like. A youth movement, a whole new car, and even new tracks are going to give fans a fresh slate to look forward to.