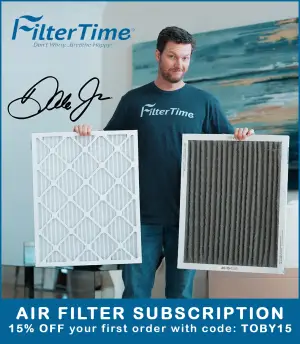 When Alex Labbé and DGM Racing went to Daytona in February, they knew that funding would dictate how many races Labbé would actually run in 2020. Going to Daytona, only three races were officially funded for Labbé; Daytona, Homestead & New Hampshire, with aspirations to find the funding to run Labbé in as many Xfinity Series races as possible.
The season started off on a positive note at Daytona, with Labbé bringing the third DGM Racing entry [No. 36] home in the top-ten after leading 19 of 120. Labbé then moved over to the No. 90 for the next two events, finishing 18th at Las Vegas and 13th at Auto Club Speedway. In the most recent race of the season at Phoenix, Labbé managed to bring the No. 36 home in 22nd.
With no finishes outside the top-25 in the first four races, Labbé sits 13th in points, four points behind playoff bubble driver Brandon Brown [No. 68].
Labbé will return to the track Tuesday Night at Darlington, which keeps him eligible to contend for a playoff spots, if he can run the remaining 21 regular season races.
Dillon Bassett, Ronnie Bassett, Jr & Ceaser Bacarella are all scheduled to run additional races in the No. 90, meaning Labbé will need to secure funding in order to remain eligible for the playoffs but running the team's third entry in races where the No. 90 is occupied.
If Labbé is able to secure the funding to run the remainder of the season, he could very well find himself in a excellent position to make the 2020 NASCAR Xfinity Series playoffs.
---
Josh Williams & DGM Racing came into 2020 optimistic about the season ahead, scoring five top-20 finishes in the last six races of 2019 and finishing 17th in final standings. That momentum, combined with the dwindling competition in the series, left the DGM Racing team in the conversation for a playoff spot in 2020.
Through four races, Williams and the No. 92 team have only finished outside the top-25 once, after getting caught up in a multi-car wreck with seven laps to go at Daytona. The next three races were strong ones for Williams, scoring his first non-superspeedway top-ten finish of his Xfinity Series career at Auto Club, and posting two solid top-twenty finishes at Las Vegas and Phoenix.
The strong rebound after disappointment in Daytona launched Williams and the No. 92 DGM Racing team into playoff conversation once again, currently sitting 14th in standings, only eight points behind playoff bubble driver Brandon Brown [No. 68] and four points behind DGM Racing teammate Alex Labbé.
A lot like Labbé, Williams has proven to be a driver who can consistently produce solid finishes, scoring eight top-20 finishes in the last ten Xfinity Series events. Consistency could be the key for Labbé and Williams if they want to be part of the 2020 NASCAR Xfinity Series Playoffs.
---
2020 NASCAR Xfinity Series Playoff Bubble Outlook: 
Prev. Race – Phoenix, Next Race – Darlington
10. No. 1 – Michael Annett +32
11. No. 18 – Riley Herbst +22
12. No. 68 – Brandon Brown +4
—————————-
13. No. 36/90 – Alex Labbe -4
14. No. 92 – Josh Williams -8
15. No. 21/93 – Myatt Snider -12
16. No. 07 – Ray Black II -15