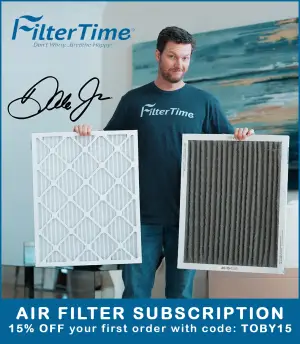 Kyle Larson has plenty of reason to smile after Sunday's Consumers Energy 400 at Michigan International Speedway. The driver of the No. 42 McDonald's Camaro ZL1 finished third, and in the process he all but locked himself into the NASCAR Playoffs by way of points as other contenders like Jimmie Johnson and Clint Bowyer struggled.
However, Larson is still win-less in 2019.
In fact, Larson hasn't won in his last 69 starts dating back to the final 10 races of the 2017 season. Could it be that the 27-year old is cursed?
Myself, I usually don't believe in curses, spells, or any kind of odd mythical thing meant to keep someone from achieving things in their life, line of work or a sport. However, there is a curse that has so much evidence and so many statistic behind it being true, that it's kind of hard to ignore.
Is there something to this McDonald's curse in NASCAR's Cup Series?
Is this the first time you've heard of it?
Much like the Madden Cover curse in the NFL, seemingly just about anyone who hops into a McDonald's sponsored Cup Series car has a rough time. It doesn't matter how good the team is. It doesn't matter how great the driver is.
For whatever reason, nobody can shake the curse.
McDonald's — by my unofficial count — has been a primary sponsor in the Monster Energy NASCAR Cup Series off and on since 1977. In that time, they have been on the hood of a race car 442 times. Over that span, a McDonald's branded race car has only reached victory lane twice.
Both wins came with Jimmy Spencer in 1994 while he was driving for Junior Johnson. Aside from the two wins, Spencer had an abysmal season and was sent packing by the team at season's end.
Since Spencer's two wins, some truly hard-hitting names have strapped into McDonald's sponsored vehicles. And not one of them has been able to have much success.
In addition to Larson; Matt Kenseth, Kasey Kahne, AJ Allmendinger, Elliott Sadler and Jamie McMurray all had turns behind the wheel of McDonald's race cars. Some just one-off events, others for longer stretches. None of them found victory lane with the golden arches on the hood of their car.
However, Bill Elliott has to be the most notable case of the alleged curse. The 1988 NASCAR Cup Series Champion, and NASCAR Hall of Famer, had racked up an impressive 40 victories in NASCAR's top series from 1983 to 1994.
He then opted to start his own race team with sponsorship from McDonald's for the 1995 season.
Elliott would go on a 226-race losing streak. He would also suffer injuries that would force him out of the car twice (1996 at Talladega and 2000 at Michigan) during the six seasons with the McDonald's logo on his race car.
In 14 full-time seasons with other forms of sponsorship, Elliott never missed a single race in Cup Series competition. Curse or coincidence?
The legend would finally snap out of it and win at Homestead in 2001, but it was the season after Elliott's six-year partnership with McDonald's ended.
Here are the career-stats of the McDonald's NASCAR Cup Series Cars Throughout the years (19-different drivers from 1977-2019)

Starts: 442
Wins: 2 (0.5%)
Top-5: 31 (7%)
Top-10: 97  (22%)
Fast-forward to the here and now, where Larson has come close to breaking the McDonald's curse as he finished second at Chicagoland with the sponsorship and third this past weekend at Michigan. He very well could find himself in victory lane with a red a yellow Chevrolet Camaro ZL1 before all is said and done.
But as it stands, Larson has not won a race over the last two seasons. How long has McDonald's been a part-time primary sponsor on Larson's car? The past two seasons. Until those golden arches pull through victory lane at a racetrack — any racetrack — the curse is on.