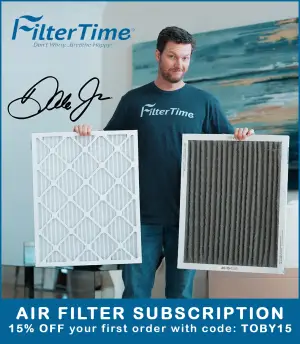 By Toby Christie (Follow on Twitter @Toby_Christie)
DGR-Crosley has been very active this offseason by adding young talent to fill it's roster for the 2019 NASCAR Gander Outdoors Truck Series season. On Friday, the team announced the promotion of 2018 NASCAR K&N Pro East Champion Tyler Ankrum.
Ankrum, 17, will drive the team's No. 17 Toyota Tundra this upcoming season. However, he will be unable to start the first three events of the year as drivers under the age of 18 are not allowed to race on larger tracks.
The San Bernardino, California native will turn 18 on March 6. The youngster will run the full-schedule beginning with Martinsville Speedway on March 23rd and he will compete for the Sunoco Rookie of the Year Award. For Ankrum it's like being on cloud-nine.
"Honestly, this is a dream come true," said Ankrum. "It's crazy to think that something I've been a fan of for so long, I'm now going to be a part of it. It's even more special that I get to stay at DGR-Crosley and progress within their organization. Everyone on our team collaborates really well together, and there's not a single person there that I don't enjoy being around and learning from.
Ankrum ran two Truck Series races with the team in 2018 and finished 18th at Martinsville and sixth at ISM Raceway in Phoenix. Ankrum captured four K&N Pro East Series wins in 2018 en route to winning Rookie of the Year in the series as well as capturing the season-long championship.
"I'm really happy that Tyler is continuing his career with us at DGR-Crosley," said team co-owner David Gilliland. "We started working with him when he was racing Late Model Stock cars a few years ago, and obviously he had a phenomenal season with us this year in the K&N East with four wins and a Championship. It's really special to watch him grow and develop as a driver. Tyler has proven that he knows how to win, and we're excited to take the next step with him."
A team press release lists Modern Meat Co. and May's Brands as returning sponsors for the effort. The release also mentioned that they have added a new sponsor in Fred's and Vivo which will be on board for select races throughout the 2019 season.