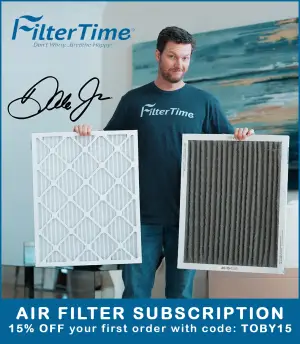 Todd Gordon, who left his post as full-time crew chief at Team Penske following the 2021 NASCAR Cup Series season, will return to the series as a crew chief in 2023, albeit on a part-time basis.
Gordon, a 25-time winner in the NASCAR Cup Series and a championship-winning crew chief with Joey Logano in 2018, will serve as crew chief for LEGACY Motor Club's No. 84 Chevrolet Camaro entry, which will be piloted part-time by Jimmie Johnson.
Additionally, the organization announced that it has extended its contract with Dave Elenz, which will see the Xfinity Series championship-winning crew chief remain with LEGACY Motor Club as crew chief of the No. 43 through 2025.
"I'm really looking forward to working with another champion that still has the desire to compete and win at the highest level," said Gordon. "In my conversations with Jimmie, I found we both miss the competition – but don't want the grind of a full-time schedule – so this is a great opportunity for us to still race and help LEGACY MOTOR CLUB build on the success they saw in 2022."
"Having the pressure of 'making the race' through qualifying and the Duel races is going to be a little stressful with a car that Jimmie and I haven't worked with yet," Gordon continued. "But the team had really good cars on superspeedways last season, so we have great resources, great teammates and a good starting point."
As of now, Johnson's schedule only consists of the 2023 Daytona 500, in which he'll have to qualify via time trials or the Bluegreen Vacation Duels. However, additional events are expected to be announced at a later date.
"I'm thrilled to have Todd come on board as my crew chief," said Johnson. "I've really enjoyed getting to know him over the last few weeks. I have known and respected him as a competitor for many years and have always appreciated his professionalism, work ethic and results. His wisdom and experience will be beneficial to LEGACY M.C. as a whole. I believe he will work very well with Dave, Luke, and the entire team."
For Elenz, 41, the 2023 NASCAR Cup Series season will mark his second full-time season paired with Erik Jones and what is now LEGACY Motor Club. Despite missing the Playoffs, the No. 43 team had a stellar season, including a victory in the Southern 500 at Darlington.
"I'm excited to continue my career for 2023 and beyond at LEGACY M.C.," said Elenz. "We had a great season last year thanks to Erik and everyone at the team. There is a lot of excitement and opportunity right now at LEGACY M.C. and I'm really looking forward to getting back to the track."
In the pairing's first season, Elenz and Jones captured three top-five and 13 top-10 finishes. However, the crew chief's resume really finds its footing in the NASCAR Xfinity Series, with 15 victories and two series championships.
"The amount of talent and pedigree of people we have at LEGACY M.C. is really impressive," remarked Team President Mike Beam. "I really can't wait to get to the track and see what we can accomplish together. Maury (Gallagher), Jimmie, Joey Cohen and I have been working really hard over the off-season to put the right people in place. The experience that comes with these championship-winning crew chiefs and drivers will help us continue the legacy that Maury and I built with GMS Racing and Richard (Petty) and Dale (Inman) built with Richard Petty Motorsports and will move LECACY M.C. forward."
LEGACY MOTOR CLUB will participate in a two-day NASCAR Cup Series test at Phoenix Raceway on Tuesday, January 24th and Wednesday, January 25th, with both Erik Jones and Jimmie Johnson. This is the first-time that Johnson and Gordon will collaborate, with the Daytona 500 coming up in February.