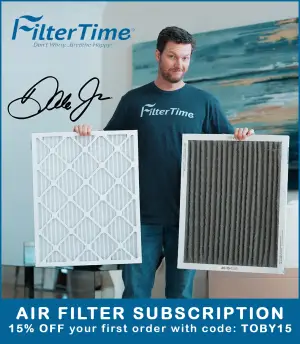 Ryan Vargas, a fan-favorite driver competing in NASCAR's National Series, will take his first adventure into the NASCAR Craftsman Truck Series in 2023, announcing on Wednesday he'll compete in select events for On Point Motorsports.
"I'm beyond thrilled to join On-Point Motorsports for the 2023 Season. I told myself heading into this offseason that it was time for a change," Vargas said in a team release. "I knew that I was ready to take on a new challenge. Having never made a truck series start, I really felt that this year was the perfect time for me to make the move into a competitive Truck Series entry. There's no denying what Bones and his team have done is nothing short of impressive. With a bunch of top-10 finishes and opportunities to make it to victory lane, I knew I had found myself a fantastic  new home."
Vargas, who has spent the majority of his career in the NASCAR Xfinity Series with JD Motorsports, will contest seven events in the NASCAR Truck Series for 2023, making his series debut at Atlanta Motor Speedway (March 18).
The 22-year-old will also compete in events at Darlington (May 20), Nashville (June 23), Mid-Ohio (July 8), Richmond (July 29), Talladega (September 30), and Homestead (October 22).
"Although I won't be running the full schedule, I'm excited to engrain myself within the organization and work hands-on with the development of my teammates and the truck's on-track performance," Vargas continued. "Thank you to all my fans and  followers for continuing to believe in me. I'm truly blessed and I really look forward to competing in the NASCAR Craftsman Truck Series in 2023."
Sponsorship for Vargas' endeavors in the NASCAR Truck Series will include returning partners Critical Path Security, Swann Security, and Williamsburg Contracting, with the addition of Léargas Security for the first time ever.
Additional details surrounding sponsorship schedules and races will be shared as the season gets underway.