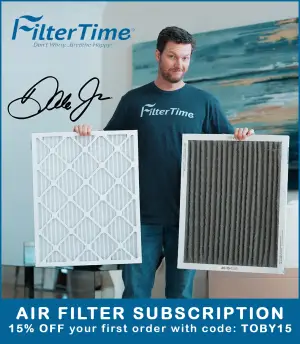 UPDATE: Tuesday, January 17th, 2023 at 10:00 am / ET.
As first reported by Jordan Bianchi of The Athletic, Travis Pastrana is officially set to attempt the 2023 Daytona 500 – in what would be his NASCAR Cup Series debut – piloting a third entry for 23XI Racing.
Pastrana will pilot the No. 67 Toyota Camry TRD in "The Great American Race", with sponsorship support coming from Black Rifle Coffee Company. The veteran-owned premium coffee company signed an exclusive beverage partnership with Pastrana in January of 2022.
"I'm thrilled at the chance to race in the Daytona 500. It's the one event every year that all my friends and family come together to watch at our buddy Dave's house, and it's an event I've wanted to race my entire life," said Pastrana. "My first supercross win came at Daytona when I was 16 years old, and I qualified third at Daytona for the Xfinity Series in 2013. That race didn't end up well, but I was able to finish 10th despite the fact I crossed the finish line backwards through the infield grass at 180mph."
Eric Phillips, former NASCAR Craftsman Truck Series crew chief for Kyle Busch Motorsports, will serve as the crew chief for the No. 67 Toyota Camry TRD, as the organization attempts to make the field amidst a strong group of open entries.
"Trying to earn one of the very few remaining spots in qualifying for the biggest race I've ever had the opportunity to compete in will not be an easy task, but I'm confident the 23XI Racing team will give me a car that belongs in the show and truly believe I have the skills to get it there," Pastrana continued. "It was very important for me to put my best foot forward and I'm happy to undertake this endeavor with the 23XI Toyota team. They are always competitive at superspeedways, so I know we will be strong when we get to Daytona."
Pastrana will be competing against the likes of Jimmie Johnson, Austin Hill, Zane Smith, and multiple others when competing for one of the four remaining spots in the 40-car field for the 2023 Daytona 500.
"Travis is part of the fabric that is Black Rifle Coffee Company and truly a member of our family," said Luke Peelgrane, senior vice president, Marketing and Media, Black Rifle Coffee Company. "When he came to us and shared his desire and interest in fulfilling one of his lifelong bucket list items – competing in the Great American Race – we didn't hesitate to come alongside him for the ride."
With the additional Daytona 500 entry, the season-opener marks the first time in the organization's history that it will field three entries in a NASCAR Cup Series race. Pastrana will be joined by teammates Bubba Wallace and Tyler Reddick at 23XI Racing.
"We're excited to welcome Travis to the team as he competes for a spot in the Daytona 500," said Steve Lauletta, 23XI Racing president. "He is one of the most well-known and well-decorated action sports athletes of all time, and we're looking forward to helping him in his quest to race in the Daytona 500. Attracting a driver of Travis' stature speaks volumes to the success 23XI Racing has had in our first two seasons and points to the positive direction in which we are headed. Aside from the opportunity to introduce Travis' dedicated fanbase to 23XI and NASCAR, this race also provides a chance for more of our team members to expand their responsibilities as we continue to grow and strengthen the team."
---
ORIGINAL STORY:
Travis Pastrana, a globally-recognized competitor across several disciplines of motorsports, is set to embark on another high-profile racing excursion, by attempting the 2023 Daytona 500, according to a report from Jordan Bianchi of The Athletic.
---
READ: Travis Pastrana to Attempt Daytona 500 for 23XI Racing – The Athletic
---
Pastrana will attempt to make his NASCAR Cup Series debut in the series' most prestigious event, by piloting a third entry for 23XI Racing. Without the benefit of a charter, the 39-year-old will have to fight for a spot in "The Great American Race".
A native of Annapolis, Maryland, Pastrana has sporadically competed in NASCAR's National Series over the course of the last decade, most recently running a pair of NASCAR Craftsman Truck Series events for Niece Motorsports in 2020.
In 2013, Pastrana competed full-time in the NASCAR Xfinity Series for Roush-Fenway Racing, piloting the No. 60 Ford Mustang. In his 34-race stint with the organization, Pastrana recorded a career-high finish of ninth, coming at Richmond Raceway.
According to Bianchi's report, an official announcement regarding the third entry for 23XI Racing is expected to come at some point next week. The report also didn't include sponsorship, car number, or personnel for the effort.