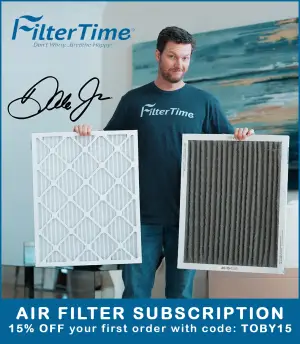 On Tuesday, BRANDT Professional Agriculture and JR Motorsports announced that the organization would celebrate the 70th anniversary of BRANDT with a special paint scheme on Justin Allgaier's No. 7 Chevrolet Camaro in the season-opener at Daytona.
Founded in 1953, BRANDT is a fast-growing, family-owned company and a leader in global agriculture, which specializes in innovative crop-input products and services to help growers get maximum yield.
"We're thrilled to commemorate BRANDT's 70th anniversary in 2023," said JRM CEO Kelley Earnhardt Miller. "Evelyn, Rick, Sierra, and the entire Brandt family should be so proud of reaching this milestone. There are a lot of challenges in running a family business and for BRANDT to have done it so successfully for seven decades is remarkable. BRANDT has been such a strong partner for our organization and we are honored to be able to play a role in such a landmark celebration."
Since joining JR Motorsports in 2016, Allgaier has amassed 16 victories, 99 top-five and 158 top-10 finishes, while qualifying for the 'Championship Four' in the NASCAR Xfinity Series Playoffs in five of the last seven years.
"It's an honor to be part of such a special celebration with everyone at BRANDT," said Allgaier. "Celebrating their 70th anniversary is truly a testament to the dedication everyone at BRANDT has to the agricultural industry. Their longevity and continued growth are remarkable and I'm proud to be just a small part of this amazing group. Plus, I think this platinum scheme looks phenomenal and I can't wait to see what we can do with it when we get to Daytona next month."
"Very few companies reach 70 years," said Rick Brandt, President and CEO of BRANDT. "But we're just getting started. My daughter, Sierra-Shae, is now an owner and we're building a company for the long term. We're ready to go cause a platinum party when we get to Daytona."
Additionally, BRANDT and JR Motorsports announced that Miguel Paludo would return to the organization for a third consecutive season, piloting the No. 88 BRANDT Professional Agriculture Chevrolet Camaro in events at Circuit of The Americas (March 25), Chicago's Street Course (July 1), and Indy's Road Course (August 12).
"To get Miguel (Paludo) back in the No. 88 BRANDT Chevrolet for JRM is really special as we celebrate our platinum anniversary," added Brandt. "I'm extremely proud of our expansion into Brazil, and Miguel continues to be a key component in helping our organization grow. I can't wait see him and Justin (Allgaier) out there for three events again this year. With the unveiling of Justin's platinum scheme for Daytona and the return of Miguel, this is the start of what's going to be a great year."
The addition of Paludo brings the schedule for the No. 88 Chevrolet Camaro – a fifth entry for JR Motorsports – up to five announced races in 2023, coupled with the two-race schedule that Dale Earnhardt Jr. will contest.