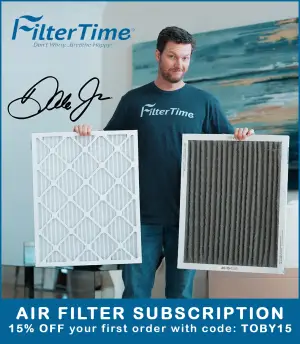 After everything that transpired during Wednesday's A-Main Preliminary Feature, Rico Abreu still found a way to make things captivating.
The two-time winner of the Chili Bowl Nationals was able to make a buzzer-beater pass on Mitchel Moles to capture a record-tying eighth Chili Bowl Nationals prelim victory, while also locking himself into Saturday's A-Main event.
🏁 Lucas Oil @cbnationals | Last lap heroics from @Rico_Abreu in Tulsa!

Presented by @Lucas_Oil pic.twitter.com/oDKNcMuqno

— FloRacing (@FloRacing) January 12, 2023
Brent Crews finished the A-Main Feature in third place, with Blake Hahn, and Kevin Thomas Jr. completing the top five. Ricky Thorton Jr, Taylor Reimer, Thomas Meseraull, Jake Swanson, and Jake Grupp rounded out the top 10.
Finishing an impressive 14th place was Kaden Honeycutt – a part-time driver in the NASCAR Craftsman Truck Series – who made an impressive run to get into the A-Main on Wednesday, let alone finish inside the top 15.
The solid result for Honeycutt makes his chances of getting into the main event much more significant, having less of the 'Alphabet Soup' to climb through on Saturday.
Despite all the historic implications Abreu's victory had in Tulsa, the thoughts and well wishes were directed to another driver, Ashton Torgerson, who was involved in a scary accident during the A-Main, which saw the 16-year-old ejected from his car.
The Medford, Oregan-native was reported to be awake and alert at a Tulsa-area hospital, and still had feeling in both his hands and feet, per an update from his family. Additional updates will be provided as they become available.