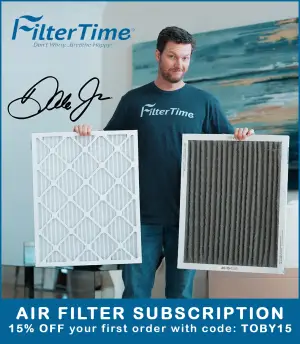 Josh Bilicki will reunite with DGM Racing for select NASCAR Xfinity Series events in 2023, where he'll pilot the organization's No. 91 Chevrolet Camaro, beginning with the season-opening event at Daytona.
Bilicki, who is confirmed to compete part-time in the NASCAR Cup Series for Live Fast Motorsports this season, will have anchor sponsor Zeigler Auto Group as part of his NASCAR Xfinity Series program in 2023, which is currently set to include Daytona, Road America, and Chicago's Street Course.
Additional NASCAR Xfinity Series events for Bilicki in the DGM Racing No. 91 will be confirmed at a later date.
"Driving for DGM Racing and the Gosselin family at the season-opener at Daytona in 2022 and scoring a top-10 finish was a highlight of my year," Bilicki said in a team release. "The entire team welcomed me with open cars, and we stayed in touch throughout the 2022 season, even when we were competitors. This felt like a very natural fit for me and my sponsors, and I am hoping to mirror our results next month at Daytona."
Since making his NASCAR debut for Obaika Racing in 2016, Josh Bilicki has been able to collect 12 top-10 results in 79 NASCAR Xfinity Series starts. Additionally, the Wisconsin-native has also dipped into the NASCAR Cup Series and NASCAR Craftsman Truck Series, which includes a 10th-place result in a Cup Series event at Daytona for Rick Ware Racing in 2021.
"As we make changes over the off-season and prepare for Daytona, locking in a competitive lineup of drivers for our second full-time entry has been a top priority," said DGM Racing's owner, Mario Gosselin. "Josh has grown to be a fierce competitor and has shown continuous success over time. We've always enjoyed racing against Josh, and we are extremely excited to welcome him back to DGM Racing so we can pick up where we left off last February."
More details surrounding the remainder of the driver lineup, partner lineup, and schedule for the No. 91 Chevrolet Camaro – DGM Racing's second entry – will be announced at a later date.