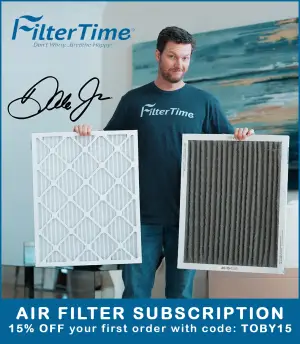 Jesse Love, a two-time ARCA Menards Series West champion, will compete for the 2023 ARCA Menards Series championship with Venturini Motorsports. The organization announced in a press release on Tuesday that Love will pilot the No. 20 Toyota for them this season.
Love, who has run 28 ARCA Menards Series races in his career, will finally be eligible to run full-time this season, as he'll turn 18 years old on January 14th.
Love ran a total of 14 races in ARCA Menards Series competition in 2022, and collected a win on the dirt at the Illinois State Fairgrounds. Additionally, Love racked up a total of seven top-three finishes in 2022, including three runner-up finishes in his final four starts of the season.
Needless to say, Love is excited to compete full-time in 2023.
"I'm really looking forward to this year with my No. 20 team," Love said in the release. "How we ended last year was really strong so you can sense the confidence in our team. We know exactly what we need to do to execute a championship season in 2023."
According to the release, Shannon Rursch will return as crew chief for the effort in 2023. The No. 20 team finished runner-up in the ARCA Menards Series Owner's Championship battle in 2022.
Sponsorship for the entry was not revealed in the team's press release.
Love and the No. 20 Venturini Motorsports will press the start button on their 2023 ARCA Menards Series campaign at Daytona International Speedway for the season opener on February 18th. FS1 will carry the live television broadcast of the event, which will begin at 1:30 PM ET.