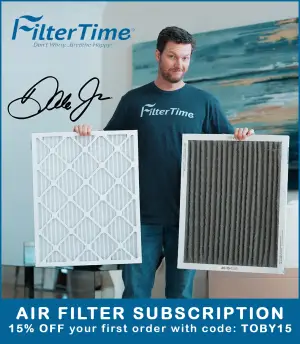 On Friday, Stewart-Haas Racing announced its complete crew chief lineup for the 2023 NASCAR Cup Series and NASCAR Xfinity Series seasons, including two brand-new acquisitions for the upcoming season – Chad Johnson and Jonathan Toney.
"In Chad Johnston and Jonathan Toney, we've got two guys who are hungry to win that also bring a lot of smarts and experience to each of their roles," said Greg Zipadelli, chief competition officer, SHR. "Both are very familiar with our program and our people."
Johnston, formerly a NASCAR Cup Series crew chief for Kyle Larson and Chip Ganassi Racing, will return to NASCAR's top level in 2023, serving as crew chief for Ryan Preece and the No. 41 Ford Mustang.
Most recently, Johnston, a seven-time winner as a crew chief in the NASCAR Cup Series, has worked with David Gilliland Racing – now TRICON Garage – in the NASCAR Craftsman Truck Series and ARCA Menards Series, including a short stint with Preece.
"It's great to have Chad back with our race team, Zipadelli continued. "A lot of the people he worked with when he was here before are still here today, and he already has a rapport with Ryan Preece. Chad fits in seamlessly and has a tremendous work ethic."
Toney, one of the longest-tenured members of Stewart-Haas Racing, will get the nod to serve as crew chief for Cole Custer's No. 00 Ford Mustang in the NASCAR Xfinity Series. Toney joined Haas CNC Racing in December 2003, five years before Stewart-Haas Racing was founded.
Toney served as the lead engineer for Tony Stewart and the No. 14 from 2009 to 2012, serving as an important piece of Stewart's third and final Cup Series title. Remaining an engineer at Stewart-Haas Racing, Toney worked alongside the team's NASCAR Cup Series and NASCAR Xfinity Series programs, including working with Cole Custer from 2017 to 2019 in the Xfinity Series.
"Jonathan has been a workhorse and his fingerprints are on a lot of the success this team has enjoyed, Zipadelli exclaimed. "He's been here since the very beginning and knows this place inside and out. Jonathan has definitely earned this opportunity and all of us are proud to see him take on this new role."
The remainder of Stewart-Haas Racing's crew chief lineup in the NASCAR Cup Series and NASCAR Xfinity Series will remain unchanged for the 2023 season.
Rodney Childers (No. 4), Johnny Klausmeier (No. 14), Aric Almirola (No. 10), and Richard Boswell (No. 98 – NXS) will all return to their respective roles in NASCAR's National Series with Stewart-Haas Racing in 2023.