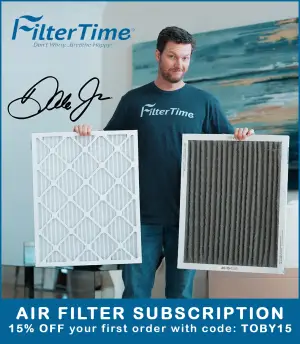 Stewart Friesen and Halmar Friesen Racing (HFR) will take a rare detour from the classic look of the team's Halmar International-sponsored entry, announcing a six-race partnership with Ferris Mowers on Thursday.
Ferris, a leading commercial and industrial turf care equipment provider, will serve as the primary sponsor of Friesen's No. 52 Toyota Tundra TRD Pro in six NASCAR Craftsman Truck Series events in 2023, beginning with Texas Motor Speedway in April.
As part of the agreement, Ferris will also serve as an associate partner of Friesen's No. 44 entry at all dirt-modified races throughout the 2023 season.
"I'm looking forward to representing Ferris mowers nationally in the NASCAR Craftsman Truck Series and on Ferris' home turf in the Northeast Modified events," Friesen said. "As someone who mows a lot of acreage at home when I'm not racing, I appreciate the smooth ride and superior quality of a Ferris mower. Everyone at HFR is excited to welcome Ferris to our team, and we look forward to a successful 2023 season."
In addition to Texas, Ferris Mowers will adorn the No. 52 Toyota Tundra TRD Pro at Bristol Motor Speedway (Dirt), North Wilkesboro Speedway, WWT Raceway, Nashville Superspeedway, and The Milwaukee Mile.
"We're excited to expand our involvement with the racing community this year by partnering with HFR, Stewart Friesen, and the No. 52 truck," said Christin Wam, senior director of marketing, Briggs & Stratton in a press release. "Given that race car drivers and lawn contractors alike are always looking for the best possible ride, the partnership just makes sense."
The forging of a new partnership between Halmar Friesen Racing and Ferris Mowers is dedicated to Bill Shea, an integral part of making the partnership a reality. Shea was a long-time Northeast Modified racing supporter and track owner, as well as an executive with Ferris until his passing in 2022.