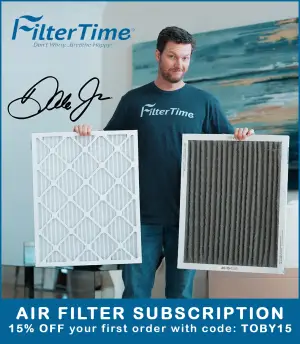 On Wednesday, Spencer Boyd revealed that he has reached a deal to return to full-time NASCAR Craftsman Truck Series racing with Young's Motorsports for the 2023 season. The new year will mark the fifth season of Boyd running for Young's, where he scored his lone NASCAR Craftsman Truck Series victory at Talladega Superspeedway in 2019.
Boyd will drive the No. 12 entry in 2023, the same truck number he had in 2022. Also returning to the No. 12 team in 2023 is crew chief Ryan "Pickle" London.
The press release from Boyd states that many of his past sponsorship partners will be returning for 2023, but the release only specifically mentioned Freedom Warranty, which will be on the truck in the season-opening event at Daytona International Speedway.
"We wanted to start this new season off with one of our good luck charms on the hood," Boyd said of Freedom Warranty. "Freedom (Warranty) has stuck with me through the highs and the lows and I have great admiration for their work. They are rolling out a new program for dealerships with an exciting announcement coming soon."
Other sponsorship announcements are expected in the coming weeks for Boyd.
While Boyd is excited about the upcoming season, he knows that the team's and his performance in 2022, which dipped considerably from 2021, is not acceptable.
"I want last season back," Boyd said. "We had great chemistry on the 12 team and showed speed early on. To make a long story short, we didn't end up with the year we wanted and we are set out to put it all in the rear-view mirror with this season."
Tyler Young says that the team focused long and hard in the offseason to identify their weaknesses, and they believe they can be more competitive in 2023.
"We are quite optimistic about this coming year," Young explained. "There were plenty of discussions in the off-season on what we have to do to get better on the track. One thing we knew is that Spencer (Boyd) was going to be a part of it. He's now driven more races than I have for our family team and earned our first win, so he's naturally going to be part of our resolution to be more competitive."
After scoring a top-10 finish and recording a 24.7 average finish in 2021, Boyd failed to crack into the top 10 at any point in 2022, and he suffered an average finish of 27.6 in 2022. Boyd was also injured this past season, as he had a shoulder dislocation in a late-race crash at Las Vegas Motor Speedway in the season's second race.