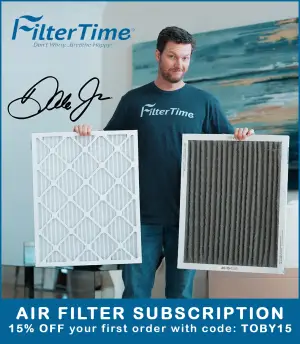 Martin Truex Jr. will once again fly the Auto-Owners Insurance colors during the 2023 NASCAR Cup Series season, and the company has revealed its eight-race primary sponsorship schedule of the No. 19 Joe Gibbs Racing Toyota on its website.
According to the Auto-Owners Insurance official website, Truex will carry the familiar blue at Richmond Raceway (April 2nd), Bristol Motor Speedway Dirt (April 9th), Darlington Raceway (May 14th), World Wide Technology Raceway (June 4th), Atlanta Motor Speedway (July 9th), Michigan International Speedway (August 9th), Indianapolis Motor Speedway Road Course (August 13th) and Martinsville Speedway (October 29th).
Auto-Owners Insurance, which has supported Truex as a primary sponsor since the 2016 season, also had eight primary sponsorship races with Truex on the No. 19 car a season ago.
On August 4th, Auto-Owners Insurance officially announced that they would be returning as a primary partner for Truex in 2023.
Truex saw his seven-year streak of making it into the NASCAR Cup Series Playoffs come to an end in 2022, despite having another really consistent season behind the wheel.
While Truex put up good results, he failed to score a win for the first time since the 2014 season, which is ultimately what led to him missing the Playoffs.
Through the opening five months of the 2022 season, rumors swirled that Truex may retire at the end of the year. However, Truex silenced those rumors on June 24th with the announcement that he would return full-time in the No. 19 Joe Gibbs Racing entry in 2023.
2023 will mark Truex's 18th season of full-time competition in the NASCAR Cup Series. The 42-year-old racer scored the 2017 NASCAR Cup Series championship, and he has made it into the Championship 4 five times over the past eight years.
Overall, Truex has amassed 31 victories over the course of his NASCAR Cup Series career.