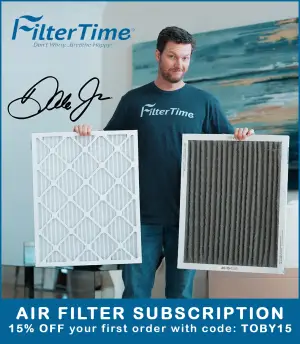 After multiple head-turning performances in the NASCAR Xfinity Series in 2022, Stefan Parsons is set to return to Alpha Prime Racing for a limited schedule in 2023.
"It's a huge boost to our program to keep a driver like Stefan in the building," said APR Vice President David Schildhouse. "His talent brought some incredible results to our team in 2022 and he believes in what we are building here at APR. We look at Stefan as a core piece of our upwards growth trajectory and bringing him back to our roster was a top priority this offseason."
Parsons, a native of Cornelius, North Carolina, joined Alpha Prime Racing in the middle of last season, leaving what was originally scheduled to be a full-time effort for BJ McLeod Motorsports in favor of the newly-rebranded two-car operation.
Splitting his remaining schedule between the team's No. 44 and No. 45 entries, while also sporadically returning to BJ McLeod Motorsports for one-off appearances, Parsons saw an immediate uptick in results, including multiple extremely impressive performances.
Through 12 starts with Alpha Prime Racing, Parsons secured top-20 finishes in six of them, while also scoring four top-15 results. Even more impressive was a career-high eighth-place finish for the 24-year-old at Bristol.
Sokal Digital, a long-time supporter of Stefan Parsons, will return to sponsor the 24-year-old in some capacity in 2023.
"I'm super excited to be able to call Alpha Prime home again in 2023," said Parsons. "I can't wait to build on the momentum we gained in the last half of 2022. None of this would be possible without the incredible support of Tommy Joe and Caesar at APR, Mark Sokal, and Melissa Clark. I'm so thankful for this opportunity to continue representing SOKAL and Alpha Prime Racing!"
Granted, that wasn't even Parsons' best performance throughout the season, as the perennial part-time driver was on track to score a top-five finish at Charlotte's ROVAL, before getting turned around late in the race by Landon Cassill.
As previously announced, Alpha Prime Racing will expand to three full-time cars, fielding the No. 43, No. 44, and No. 45 Chevrolet Camaro entries in the NASCAR Xfinity Series. Parsons joins a multi-driver lineup that currently includes Sage Karam, Jeffrey Earnhardt, and Ryan Ellis.