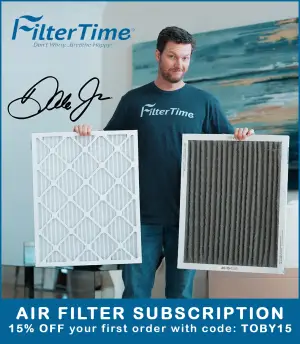 After reuniting for the final ten races of the 2022 NASCAR Xfinity Series season, Josh Williams is set to return to DGM Racing full-time in 2023, the organization announced on Wednesday.
Williams, who began his NASCAR Xfinity Series career with the Mario Gosselin-owned operation in 2016, will pilot the No. 92 Chevrolet Camaro with support from a number of the driver's long-tenured partners, including Alloy Employer Services, Star-Tron, Sleep Well, Coolray, and General Formulations.
"Really excited to be back in the 92 for DGM Racing. We have had a long relationship and a lot of success together in years past," Williams said in a team release. "Everyone at DGM is like family and I know that 2023 is going to be a successful season for everyone. Mario is a true racer and an extremely hard worker. He is always searching for ways to be better and more competitive every week. His drive to have a successful race team means a lot to me, and I'm glad to be back home where I belong."
The Port Charlotte, Florida native is no stranger to success with DGM Racing, having finished inside the top-20 in season-long NASCAR Xfinity Series point standings for three consecutive years, in which time Williams collected eight top-10 results.
Alloy Employer Services first joined forces with Williams during a breakout season in 2020, where he collected six of his eight career top-10 results while driving for DGM Racing.
"Everyone at Alloy is excited to see Josh back at DGM Racing for a full season of NASCAR Xfinity racing in 2023," Alloy Employer Services CMO, Chris Estey, commented. "Josh's previous success with DGM and those tremendous Top-10 finishes point the way to the upcoming season's incredible potential. We couldn't be more excited to back this program."
DGM Racing plans to field two full-time NASCAR Xfinity Series entries in 2023, with details surrounding the remainder of the team's plans for the upcoming season to be announced in the coming weeks.
"We are eager to get the No. 92 back on track for full-time competition and couldn't be happier to welcome Josh and his sponsors back home. We began this journey together many years ago," said DGM Racing's, Mario Gosselin. "It means a lot to me and the people of DGM that Josh believes in our program and what we are continuing to build in our family-run shop. We are ready to make everyone proud, create a name for ourselves, and chase some victories in 2023."