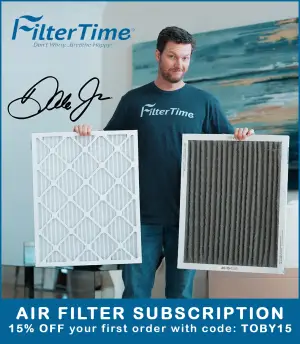 Brayton Laster, who made two ARCA Menards Series starts for Mullins Racing in 2022, will return to the organization for two more starts in 2023, according to a post from the official Mullins Racing website.
The team is excited to work with Laster again in the new year.
"We're definitely excited to have Brayton back. He's somebody who has shown promise and continues to move forward with his career," Willie Mullins said. "We're happy to work with someone we've worked with already, and it's nice to continue to build this relationship with him.
"He is a great listener, and he has worked great with our crew chief Robert Bruce. We're happy that this relationship is continuing to build. We're looking forward to him doing great things in our car."
The 20-year-old driver, who is affectionately known as "The Pizza Man", will pilot the No. 03 car in the ARCA Menards Series season-opener at Daytona International Speedway on February 18th as well as at Talladega Superspeedway on April 22nd.
"I am beyond excited," Laster said in the release. "Last year it was all about learning, all about getting experience. I had never been on an asphalt track bigger than a 3/8-mile until Daytona last year. I was definitely out-experienced when it came to competing against the rest of the ARCA Menards Series field.
"When I say I am excited, I feel like I have a shot to go turn some heads."
In his ARCA Menards Series debut, which came at Daytona last season, Laster finished a respectable 13th in the 36-car field. At Talladega, the third race of the season, Laster was relegated to a 26th-place finish after a crash ended his day 48 laps into the 68 lap race.
Laster will have JunkCarBlaster.com and AutoRepairVINStickers.com, Laster family businesses, on his car and according to the release additional sponsorship partners will be announced at a later date.
In addition to his two ARCA starts in 2022, Laster also made his NASCAR Craftsman Truck Series debut on the dirt at Knoxville Raceway. Laster started 31st in the No. 33 Reaume Brothers Racing Chevrolet Silverado and finished the race in 27th.
Mullins Racing also announced on December 15th that Kayla Surles will join the team for the ARCA Menards Series test at Daytona on January 13th and 14th.