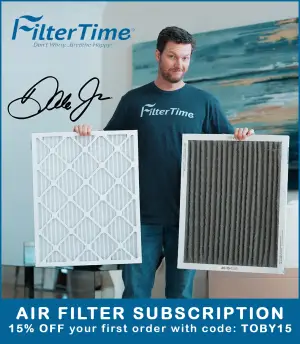 Hello, everyone. If you don't know me by now, my name is Stephen Mallozzi. I write about eRacing events for TobyChristie.com, and I actually made my first real-world start in the NASCAR Craftsman Truck Series this past season, which resulted in a 22nd-place finish at Mid-Ohio.
On Friday night, I had the honor of participating in the 'Racers vs. Redditors" iRacing event, which pitted NASCAR stars from each National Series division against some of the best that the r/NASCAR Reddit community has to offer. And boy, oh boy, the 96-lap event did not disappoint.
From my perspective, the game plan was simple: Save my fast repair.
For those unfamiliar with what a fast repair is, in some special iRacing events the race settings can be set to allow drivers who are damaged heavily in a big crash to utilize a "fast repair" which automatically fully repairs their car instantly, which keeps the driver from losing laps in the pits while their virtual crew makes repairs.
However, there are not unlimited fast repairs in these events, so you have to play the strategy game correctly on when to use them.
I knew with the mix of talent levels in the field, all I had to do was survive with a clean racecar and I'd have a chance to win at the end. Patience, while I admit is not one of my racing strong suits, was necessary to survive the chaos over the course of the race.
In my Discord, a communication application, I was joined by fellow Reaume Brothers Racing driver Brayton Laster, along with my new friends Michael Edwards and Jon Garrett. We all had the same idea, which was to ride around and survive.
We started off doing just that early on, as we just tailed the front pack by a few car lengths. However, even with taking it easy, an early wreck involving NASCAR Truck Series Driver Dean Thompson gave me some damage (by no fault of my own, I was hit from behind).
Ultimately, I decided not to use the fast repair, but rather to just take the time to fix it naturally, as I was riding around anyways at this point. We ended up going to the back but lost the draft of the main pack on the restart.
As the lead pack started to pull away from us, Laster had left us in the dust, duking it up front with the leaders. However, in our little six-car back-marker train, disaster struck when Zachary Tinkle spun one of the drivers in our group, which slowed us down even more.
Mercifully, just after falling over 30 seconds behind (and right before a round of green flag stops), the caution came out. Sadly, Laster was involved in what would be the first of many incidents in what turned out to be a disastrous night for the Pizza Man.
I again elected to fall to the back.
At first, I tried to tail the field, but connectivity issues continuously caused my car to fall back rapidly. Eventually, I caught up to a nice train led by Garrett Smithley.
We rode around until another enormous wreck struck. All of the frontrunners were making crazy moves as if each lap was the last. With the frantic racing, I was genuinely impressed with the overall quality of racing, as I expected there to be more wrecks in the race than there were.
That being said, these cautions nonetheless continued to breed more cautions.
And the wrecks got bigger and more intense as the race moved on. As Lap 60 ticked by, I decided to stand pat. Lap 70 then passed, but I felt it was still too early to begin making a move and thought better of moving up.
Then, once we crossed Lap 80, I began to get antsy and started to move up furiously, slicing my way from just inside the top 30 to about 11th.
A huge wreck, involving most of the front of the field hit with about 11 to go. Tinkle, who was laps down at this point, quite literally 'Lepage'd' the field, as he pulled up in front of everyone and eliminated many contenders.
I survived the crash, albeit with damage, and came out of the mess in the 12th position. As there would be less than 10 laps to go on the ensuing restart, it was time to finally use the fast repair that I had worked so hard to save.
At this point, Laster, who was involved in quite literally five separate incidents, retired from driving in the race and came over to spot for me.
Choosing to make the pit stop for the fast repair would drop me back to the 17th position, but I kept my calm, and again moved my way through the pack.
I found myself paired up with Edwards near the front with just six laps remaining, but then disaster struck when he spun right in front of me. Another massive crash ensued as a result. I held my breath as the seas parted and a perfect hole opened up amid the chaos for me to squeeze through. I made it out with a little bit of right-side damage, but certainly not enough to pit again.
Not only did I squeeze through though; I made it up to the sixth spot. I consulted with the team, most of whom were out of contention at this point, and decided to stick with the top lane (yes, I know; a choose rule at a Superspeedway?!?) no matter what transpired.
Opting for the high lane before the restart would put me back to eighth. At this point, I felt like it would be a tall task to come back for the win.
The next restart didn't improve my odds either.
As the race went back green, the inside line got a massive jump, which dropped me down to 10th in the running order and it forced me to bail immediately on the top side. I then stayed committed to the bottom with Davis Warren, until I ended up side-by-side with Peter DeBorja in Turn 3.
In what I swear was net code (net code is a glitch in racing simulators, where although you don't actually touch another car, the lag in the game thinks that you did, causing a crash), DeBorja and I made contact, and I thought for sure that was it for me. For us. However, Peter made an incredible save and in the process, saved us both. Somehow, I not only maintained my momentum but now I also found myself in fifth.
At this point, Warren and I were a fair amount back from the three leaders, Chris Hacker, Garrett Smithley, and James Bickford, as we approached the white flag.
We continued to push as hard as we could until Bickford and Smithley made their move on Hacker. The side-by-side racing between the three leaders allowed us to catch up, at which point I jumped out of line to pounce as well.
Then, Bickford and Smithley got side-by-side, and I saw my opportunity, and jumped to the top, right in front of the charging Kase Kallenbach.
Kallenbach gave me an enormous shove into the tri-oval, and simultaneously, Bickford and Smithley started to wad it up. I was one of the only drivers who just barely survived after slight contact with the wall. Meanwhile, Alex Khirfan would be tagged and lose control, but he somehow was able to maintain momentum.
He and I made contact right as we crossed the finish line in incredible fashion. After the breathtaking finish, and a brief moment of wondering if I had won, I realized I came up just shy. Khirfan would steal the win over me by a margin hardly visible to the naked eye: 0.003 seconds.
Laster, who had the best seat in the house for the finish as my spotter, shared his view, and his spotting calls to me during the finish on Twitter.
Brayton Laster spotter debut when, had the honor of spotting @DriverMallozz for the final segment of tonight's Redditors v. Racers race tonight. @NASCARonReddit pic.twitter.com/Aswk08pgW0

— Brayton Laster (@TheOnePizzaMan) December 10, 2022
The rest of the top five was dominated by Redditors. Warren, Luel Asnake, and Alonzo Chocano finished in 3rd, 4th, and 5th respectively, all of whom were Redditors.
What an incredible event. Now, I'm pumped to compete in another virtual race on Saturday night — RJ Starcevic's Daytona Charity Shootout presented by Alpha Prime and ClearCryptos.
It's back!

The Daytona Charity Shootout returns this Saturday night at 9PM ET, live on the Turn 200 iRacing YouTube channel.

So glad to be putting this on for the 4th annual time!#NASCAR pic.twitter.com/cub7yKqaPt

— RJ Starcevic (@RJStarcevic) December 5, 2022